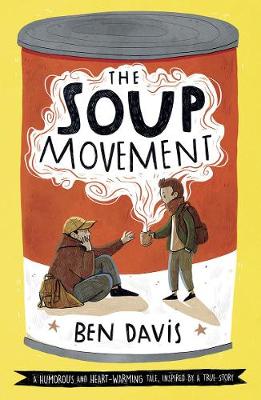 By Author / Illustrator
Ben Davis
Genre
Personal Growth
Age range(s)
9+
Publisher
Oxford University Press
ISBN
9780192749239
Format
Paperback / softback
Published
06-08-2020
Synopsis
To aid his recovery from a life-threatening illness, Jordan and his family move out of the city for a healthy new start. Jordan's getting enough funny looks as the new boy at school as it is, without his Mum giving him homemade soup every day for lunch! But when Jordan meets a homeless man called Harry, and gives him the soup, it is the start of an unlikely friendship. Soon the two of them begin giving soup to the other homeless people around town and when his sister shares their antics on Instagram and the #SOUPMOVEMENT begins, they even make it on the news!
Reviews
Kelly
When I finished this book I needed to just sit and reflect on the journey I had just been taken on, collect my thoughts before writing this review so I could do it justice.

The Soup Movement is a powerful and evocative story told through the eyes of 12 year-old Jordan, a cancer survivor. It details his experience, deals with loss and survival and shows the depths and layers that make his an inspiring young character.  It is a raw and life affirming read. It forces the reader to reflect on the impact they have on the planet and realise they are not too small to make a difference. I could see this story enabling young people to stand up for their beliefs and contribute positively to the world around them.

Jordan, who is in remission from cancer, is forced to leave the city for the clean air of the suburbs and start afresh. Suffering with nightmares and unable to talk about his experience leaves him in a constant state of heightened anxiety. Whilst trying to fit in and make friends, he stumbles across some homeless people and, with the help of his social media-crazed sister, develops the Soup Movement.
Jordan's character is portrayed as extremely humble and I felt myself empathising with him throughout the book.  This story is a reminder that big things around the world aren't always going great but we can make a difference on our doorstep. This story is about human kindness, bringing a community together and finding hope in desperate circumstances.

As an UKS2 teacher, I would recommend this book to children aged 9+ or adult lead to a younger audience. It includes many themes and topics for discussion: friendship, bereavement, kindness survival and hope.

320 pages / Reviewed by Kelly Buxton, teacher
Suggested Reading Age 9+
Other titles