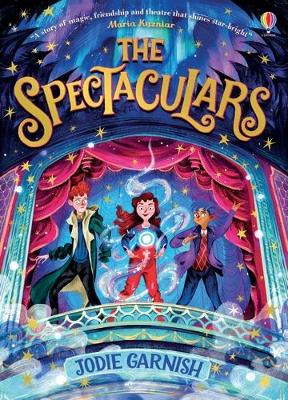 By Author / Illustrator
Jodie Garnish
Genre
Magical Realism
Age range(s)
9+
Publisher
Usborne Publishing Ltd
ISBN
9781801312547
Format
Hardback
Published
29-09-2022
Synopsis
The Spectaculars is the enchanting new adventure series that combines magic, theatre and danger with a large pinch of starstuff...  When three figures arrive at Harper's window in a flying canoe, informing her that she is due to start her apprenticeship, Harper discovers she is a Spectacular - a magical performer, gifted special powers from the stars.
Harper is thrilled to be part of the Spectaculars' travelling theatre and boarding school, until everything is plunged into great danger. With her new friends Trick and Thief, Harper sets out to save her school... But while dreams come true at the Wondria, nightmares might just be lurking in the wings.
'A story of magic, friendship and theatre that shines star-bright' Maria Kuzniar, author of The Ship of Shadows. 'Beautifully written, imaginative and witty, The Spectaculars immerses you in a thrilling magical world with characters you fall in love with right from the start' Hannah Durkan, author of Zeina Starborn and the Sky Whale.
Reviews
Jenny
The Spectaculars is a wonderfully entertaining and excitingly magical story. Harper Woolfe remembers very little of the first few years of her life but is astounded and delighted when, at the age of 11, she discovers that she is actually a "spectacular" - a gifted, extraordinary girl with magic, theatre and performing in her blood.
This revelation opens up a whole new sparkling future for Harper, away from the grim reality of life in the aptly named city of Smoke in the Sunless Provinces. The Spectaculars exist in a whole other realm, banished from the Provinces because of unjust fear of their magical abilities. Harper is amazed to find herself travelling through the gateway (by flying canoe!) to become an apprentice at the Wondria Music Hall, where she will learn to harness starlight and become a fully fledged performing Spectacular.
The story is inventive, vivid and bursting with imagination. There is such delightful attention to detail to create an incredible fantasy world with its own sense of past, history and superstitions. From the Teapot Trait Initiation Ceremony (where a teapot chooses the core personality traits of each apprentice, along with their own unique flavour of tea), to the lessons full of risk and excitement where the apprentices learn to use a wondrous blend of starlight and stardust in their performances, the narrative glows with both exquisite and intricate descriptions, and bold dramatic scenes and plot twists.
There is a rich, diverse and charming cast of characters that we meet alongside Harper as she adjusts to her new life. Harper herself is a bold and determined young girl and, with her renewed bond with early childhood sidekick Trick and new found friendship with young witch Thief, she makes a fantastically lively and likeable character to root for as dangers and mysteries begin to unfold and strange accidents and disasters put the Wondria itself under threat from closure.
Has Harper herself brought the spectacular legend of the Four Curses to life? Or is there a malevolent force at work that threatens the entire way of life of all Spectaculars and the power that starlight has in all their remarkable lives? The Spectaculars shines with magical escapism and is a captivating, adventure story, alive with all manner of outstanding colours, lights, sounds, smells and and bright with warm, appealing characters.
368 pages / Reviewed by Jennifer Caddick, teacher
Suggested Reading Age 7+
Other titles