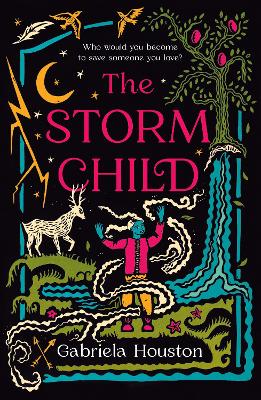 By Author / Illustrator
Gabriela Houston
Genre
Fantasy
Age range(s)
9+
Publisher
UCLan Publishing
ISBN
9781915235534
Format
Paperback / softback
Published
04-05-2023
Synopsis
The epic conclusion in The Wind Child duology.  Who would you become to save someone you love?
Mara, the granddaughter of the God of Winter Winds, had her human soul ripped out for defying the laws of gods and men... A year on, she and her shape-shifting friend Torniv are on the run from Koschei the Deathless, who will stop at nothing to destroy them.  The two friends will have to face their past and decide how far they're willing to go to keep each other safe. And in the world of Slavic monsters and gods, there is always a price to pay...
Cover illustration by Alexis Snell. 
Reviews
Clair
The Storm Child is the eagerly awaited sequel to The Wind Child. It follows Mara and her friend Torniv the bear shape-shifter who are on the run from Koschei - who is trying to kill them.
I love the world that the author, Gabriela Houston, has created. Her strong story telling really brought this Slavic tale to life for me. Although The Storm Child is a sequel, I think it could easily be enjoyed without having read The Wind Child first. There are throwbacks to the first book throughout the story, so I was able to recap easily. If you haven't read it yet, The Wind Child will explain the back story to Mara's current predicament.
The Storm Child is a pacey adventure and doesn't dwell on the grief that led to Mara's journey in the first book. Mara, granddaughter of the God of Winter Winds, has lost her human soul. She is yet to discover her true powers and seems to rely heavily on her 'gift of the gab' and help from other Slavic friends and relations. She makes bargains with forest lords as their help is not given without strings attached. There is always some offering or price to pay and Mara doesn't always have something to barter with.
I loved the friendship between Torniv and Mara and the lengths that they would go to protect each other. I enjoyed learning more about Torniv's back story. I found the story so absorbing that this was a really quick read for me as I simply could not put the book down. There are plenty of twists and turns along the way which will keep the reader on their toes. The characters are likeable and very well fleshed out. I loved that I got to meet some of the characters from the first book again but there are plenty of interesting new faces added.
I think The Storm Child will really appeal to those that enjoy fantasy, magic and adventure stories as well as myths and legends. I would love to read more about Zevena, Mara's mother and daughter of Stribog. Will there be a book 3 where we learn more about her story?
208 pages / Reviewed by Clair Bossons, school librarian
Suggested Reading Age 9+
Other titles