The Switch Up: L. A. Exchange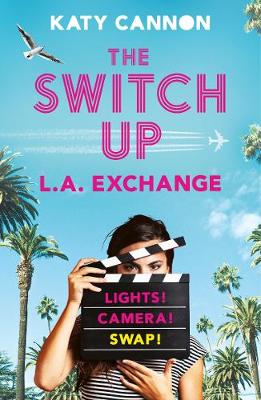 By Author / Illustrator
Katy Cannon
Genre
Friends and family
Age range(s)
9+
Publisher
Little Tiger Press Group
ISBN
9781788951920
Format
Paperback / softback
Published
25-06-2020
Synopsis
WILLA - Film director, LA insider, Impulsive, Looks like Alice
ALICE - Eco warrior, LA tourist, Cautious, Looks like Willa
Alice can't wait to visit Willa in LA - home of Hollywood, where dreams come true. Their plan is to explore the city and see the sights, but then Willa gets the opportunity to work on the film project of her dreams and she can't say no! The only problem is she is absolutely 100% supposed to be taking part in a beach clean-up. Which, now she thinks of it, sounds pretty perfect for Alice... Can the girls really swap lives again? Cue plotting, outfit swapping and award-winning performances. But everyone knows that real life is nothing like the movies...
The second instalment in THE SWITCH UP series and the perfect read for fans of GEEK GIRL and SUPER AWKWARD.
Reviews
Elen
I loved the first Switch Up book by Katy Cannon, where two teenage girls, who look very similar, meet at an airport and decide to swap their lives for the summer. What could possibly go wrong?

The second book, Switch Up: L.A. Exchange, sees the girls - Willa and Alice - on holiday together in L.A., and of course there are opportunities once again to swap identities, which the girls take; Willa to work on a film project, and Alice to support an environmental project that Willa had been meant to do.

Although they do swap identities again, L.A. Exchange is a very different book from the first one as now the girls are together and we see their very different personalities start to emerge; as the challenges for them mount, both will need to decide how much they value their friendship.

The novel gives some lovely glimpses into young teenagers and their passions as they look ahead to the future lives they might want to lead. For Willa, it is all about film and being a star while Alice is happier in roles supporting the environment. Each has qualities that the other needs to learn, and Cannon works these changes seamlessly into the novel.

I'd really recommend these books as perfect summer reads for ages 10+ - there is friendship, the stirrings of romance, and a distinct sense of looking ahead to the kinds of young people the characters want to grow into.

352 pages / Ages 10+ / Reviewed by Elen Green
Suggested Reading Age 11+
Emily

- Age 12
I liked that this could happen in real life, it's really action-packed and I would recommend this to children ages 10+
Suggested Reading Age 9+
Other titles