The Third Daughter: A sweeping fantasy with a slow-burn sapphic romance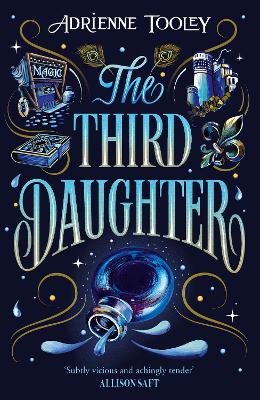 By Author / Illustrator
Adrienne Tooley
Genre
Fantasy
Age range(s)
14+
Publisher
Hodder & Stoughton
ISBN
9781399713955
Format
Hardback
Published
18-07-2023
Synopsis
A prophecy poisoned. A queendom at stake. A magic vial of tears holds their fates.  The Third Daughter is a sweeping fantasy about betrayal, sisterhood, and deadly quests for power, with a stunning, slow-burn sapphic romance.

For centuries, the citizens of Velle have waited for their New Maiden to return. The prophecy states she will appear as the third daughter of a third daughter. When the fabled child is finally born to Velle's reigning queen, all rejoice except for Elodie, the queen's eldest child, who has lost her claim to the crown.  The only way for Elodie to protect Velle is to retake the throne. To do so, she must debilitate the Third Daughter - her youngest sister, Brianne.

Desperate, Elodie purchases a sleeping potion from Sabine, who sells sadness. But the apothecary mistakenly sends the princess away with a vial of tears instead of a harmless sleeping brew. Sabine's sadness is dangerously powerful, and Brianne slips into a slumber from which she will not wake.  With the fates of their families and country hanging in the balance, Sabine and Elodie hurry to revive the Third Daughter while a slow-burning attraction between the two girls erupts in full force.
Reviews
Linda
The Third Daughter is the first book in a new series that explores sisterhood, deception, control, magic and power with a background of a slow burning sapphic romance.
For many years the citizens of Velle have waited for their New Maiden to return. The prophecy states she will appear as the third daughter of a third daughter. However, not all the citizens are happy when she is born as the new third daughter is the Queen's youngest child, Brianne. This causes her eldest daughter, Elodie to lose her claim to the throne. Elodie is not so easy to replace, she watches carefully and is aware that her young sister is nothing but a puppet for the Chaplain, Brianne's father. In order to protect her little sister and Velle, Elodie must take drastic action, but her plan doesn't go the way she wanted. Will she be able to save her sister? Will she be Queen? Who can Elodie trust with the consequences of what she has done?
Sabine is a apothecary who lives in the dark side of Velle and when she realises who she has sold her powerful potion to, she attempts to make things right. As the two girls hurry to rescue the third daughter, a slow burning attraction develops between them. Will this relationship survive when they reveal the secrets they hold from each other?
These two characters are polar opposites of each other and you can't help but feel for them, you want them to succeed and find comfort in each other. The Third Daughter's plot will immerse many 13+ readers into the author's world. The book would also be great for book clubs as there are some discussion areas around religions, beliefs and legends. I am looking forward to seeing how these characters develop in the next book, especially after the dramatic plot twist and great cliffhanger ending.
320 pages / Reviewed by Linda Brown, school librarian
Suggested Reading Age 14+
Other titles