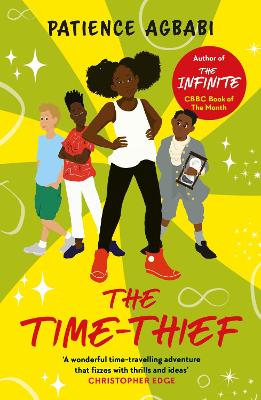 By Author / Illustrator
Patience Agbabi
Genre
Science Fiction
Age range(s)
9+
Publisher
Canongate Books Ltd
ISBN
9781786899903
Format
Paperback / softback
Published
06-05-2021
Synopsis
It's midsummer's day and thirteen-year-old Elle and her Leapling classmates are visiting the Museum of the Past, the Present and the Future. But on the day of the school trip, disaster strikes, and the most unique and valuable piece in the museum, the Infinity-Glass, is stolen! And worse still, Elle's friend and fellow Infinite, MC(2), is arrested for the crime!

To prove his innocence Elle must leap back centuries in time, to a London very different from today. Along the way she will meet new friends, face dangers unlike any she has ever known, and face an old enemy who is determined to destroy her. Can Elle find the missing Infinity-Glass and return it to its rightful home before it's too late?
Watch Patience Agbabi introduce book one, The Infinite.
Reviews
Hayley
The Time-Thief is the second book from the Leap Cycle series (see The Infinite) by the fantastic author Patience Agbabi. This thrilling adventure story returns us to the lives of Elle and Big Ben - Leaplings with 'The Gift'. It is a story that thoroughly immerses us in time travel, history and our differences. Elle and Big Ben return to our lives with an enthralling adventure story that sees them leap between the past the present and the future.
After the summer solstice, Elle and her classmates take a trip the Museum of the Past, Present and Future where Ellie is to read her award-winning piece of poetry that she has written about the Infinity-Glass. However, Elle is unaware that the museums most valuable artefact is about to be stolen. Everything happens so fast, the Infinity-Glass is stolen, an Infinity member is arrested and Elle and Big Ben are given the task to solve the crime.
I really did enjoy reading the second book in this series and I think this is because of the impression left on me by the first book. I found the story more easily accessible having read the first book, as I understood the characters and their abilities more. I love the history embedded throughout the story and how we get to see the London of the past through the eyes of a child.
This story also has a reference to slavery, misfits within society and the future of waste management, which are strong and often controversial themes. I would recommend this book for Upper Key Stage 2 because it would allow good discussion points to be developed.
210 pages/ Reviewed by Hayley Summerfield, teacher
Suggested Reading Age 9+
Other titles