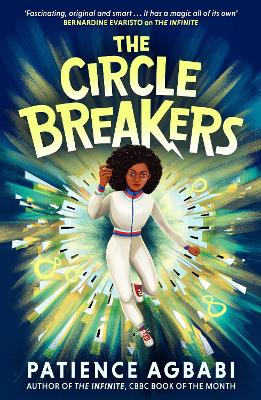 By Author / Illustrator
Patience Agbabi
Genre
Fantasy
Age range(s)
9+
Publisher
Canongate Books
ISBN
9781838855796
Format
Paperback / softback
Published
19-01-2023
Synopsis
Fourteen-year-old Elle and her friends are going to a not-to-be-missed funfair. But a ride on the Ghost Train takes them further than they ever imagined. They end up in 1880, face-to-face with criminal mastermind, The Grandfather!  To Elle's surprise, he needs her help. Someone has threatened to reveal The Gift to the media. If that happens, everyone will know that Leaplings can leap through time; no Leapling will be safe. Meanwhile, Millennia's power at the head of The Vicious Circle grows.  Will Elle work for a villain to save her secret community? Can she and The Infinites crush The Vicious Circle for good?
Book 1:  The Infinite;  Book 2:  The Time Thief;   Patience Agbabi introduces The Infinite
Reviews
Hayley
I was absolutely thrilled to receive the next book in the fantastic Leap Cycle series by Patience Agbabi, which began with The Infinite. The Circle Breakers did not disappoint and this thrilling time travel adventure is an exhilarating read.
Elle and the Infinites are back and the 'leaplings' are getting ready for the Halloween disco in 2050. Everything is going well until they all take a ride on the Ghost Train which transports them back to 1880 where they meet the criminal mastermind - the Grandfather. It turns out that he needs the infinites' help, as he has received a distressing letter that puts all their lives in danger. He asks Elle and Big Ben for their help and, after a meeting with the other infinites, they agree to help him. Elle and Big Ben love solving puzzles but something does not feel right about this because it involves the Vicious Circle and everyone within it seems to become a suspect, even one of their own infinites, who is acting as a double agent.
This story is fast-paced and flips between the past, present and the future. Once again, we are drawn into Elle and Big Ben's vision of the world and how they battle with everyday life as well as trying to solve time travelling mysteries. Elle proves to be a well-rounded heroine even when her world is turn upside down and everything seems to be unravelling; she does not give up hope and her friends are there to support her.
Throughout the story, Patience Agbabi has cleverly entwinned key environmental issues such as climate change, meat consumption and animal extinction into the story line that deals with current issues and is a thought-provoking read. I would recommend this book for KS2 children and feel that every school library should have the Leap Circle series for children who are seeking to read something that is written to celebrate our differences.
208 pages / Reviewed by Hayley Summerfield, teacher
Suggested Reading Age 9+
Other titles