The Tower at the End of Time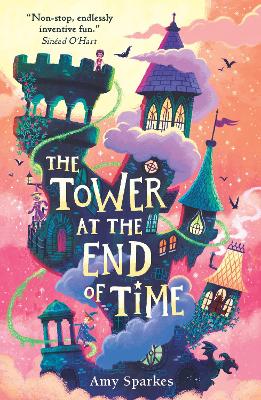 By Author / Illustrator
Amy Sparkes, illus Ben Mantle
Genre
Magical Realism
Age range(s)
7+
Publisher
Walker Books Ltd
ISBN
9781406395327
Format
Paperback / softback
Published
06-01-2022
Synopsis
Nine and her friends have broken the curse on their marvellous, magical House, and are free to travel the worlds once more! Their first stop: The Wizarding Hopscotch Championships.  There's only one problem: the House is nervous about travelling - and gets the hiccups! Bouncing from world to world with every "HIC!", they finally land at the championships, only for Flabberghast to have an unfortunate run-in with square number seven, and find himself faced with the terrible Tower at the End of Time.  But maybe here they can find out how to cure the House's hiccups, and Nine might finally discover who left her the beloved music box, and who she really is...  A young middle grade novel full of humour, magic and mischief - and the second in a three book series.
See also: The House at the Edge of Magic; The Tower at the End of Time
Reviews
Hayley
Amy Sparkes' new book, The Tower at the End of Time is the sequel to her brilliantly funny The house at the Edge of Magic. This book is full of humour, magic and mischief and takes us on another marvellous adventure. We are able to re-join with the characters of Nine and her friends in the house of magical mayhem.
In the last book, they managed to lift the curse that had grounded the house for three long years. The house and its residents are now free, free to travel the worlds beyond and in between, but their first stop must be the Wizarding Hopscotch Championship which Flabberghast has missed greatly. However, they encounter a problem - the house. The house is not happy and develops a rather violent set of hiccups, which Flabberghast tries to cure without success. So now the race is on to win the Wizarding Hopscotch Championship and face the Tower at the End of Time to find a cure for the house.
On this adventure, Nine begins to unravel things about the past; she unearths the link with the skeleton in the cupboard and discovers how a room in the house and her music box holds more than memories. Nine feels like she needs to protect her new family and is willing to undertake the most challenging of tasks in order to do this. Meanwhile, Spoon is adamant that Flabberghast should be helping him to find Professor Dish, who seems to have miraculously disappeared. At the Wizarding Hopscotch Championship, Flabberghast reunites a grievance with an old enemy and embarks on a quest that is tangled with woes and secrets. As the story unfolds, the characters realise that they need each other and rely on each other.
This is a fantastic book, full of magic and mystery which are all the ingredients needed to escape.
272 pages / Reviewed by Hayley Summerfield, teacher
Suggested Reading Age 7+
Other titles