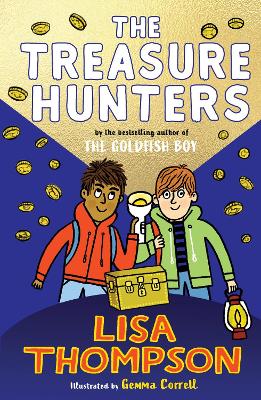 By Author / Illustrator
Lisa Thompson
Genre
Mystery & Detective
Age range(s)
9+
Publisher
Scholastic
ISBN
9780702301605
Format
Paperback / softback
Published
13-04-2023
Synopsis
A gripping, page-turning mystery adventure from the bestselling author of modern classic The Goldfish Boy When lonely Vincent is forced to go on an outdoor activity weekend with three other kids from his class, he's counting the seconds until he can escape home. But one of his classmates is hiding a secret: she's convinced there's pirate treasure buried deep within a nearby mountain. Suddenly, this boring trip becomes an exciting adventure! But a thief is hot on the trail, intent on stealing the loot for themselves... can the Treasure Hunters work together to stop them?
For fans of Frank Cottrell Boyce's Millions and classic action adventure movie The Goonies, The Treasure Hunters is a funny, moving and a real page-turner a sensitive depiction of a hero with dyspraxia.  Praise for Lisa Thompson's books:  Goldfish Boy "an utterly captivating read" BookTrust.  "This empathetic debut is a middle-grade whodunit with a very special heart." Kirkus. "a heart-warming tale" Books for Keeps. The Light Jar Shortlisted for the Children's Book Awards 2019, Books for Older Readers Category "bags of empathy to a deftly plotted tale" The Guardian.  "A hugely endearing boy hero" The Timesl The Day I Was Erased "Lisa Thompson's light touch in delicately exploring emotional wellbeing means the story can be enjoyed by younger children and teenagers alike and can help begin important conversations about memory loss, parental discord and the meaning of friendship." BookTrust.
Reviews
Janet
Poor Vincent skulks around at school trying not to be noticed or have anyone notice he is alone. But teachers have noticed he seems to have no friends and put him forward for an adventuring weekend away, involving tents and lots of walking! He is joined by Lena who has an ulterior motive for joining the group, Scarlett, seemingly spoilt but suffering a difficult relationship with her mother, and Josh whose family is poor and covers up his embarrassment by trying to be the funny boy in the class. After their late arrival at the first evening's rendezvous, suffering ribbing, Lena divulges her secret plan, to find the treasure her grandfather tried to find before he died and who was ridiculed for the attempt. The four bond together reluctantly, to seek this but it does involve a very Indiana Jones trip into the heart of a mountain.
Using children who are misfits in a story to bond together is not new of course, but the author manages it with humour and empathy. The story does become a little implausible once Vincent, Scarlett and Josh go into the mountain, encountering various obstacles, often involving floors of knives, but Vincent's gaming proves its worth and the three pass all the tests and emerge with the prize. The children are believed instead of one of the helpers at the weekend without much evidence which also stretches the plot a little, but this is an exciting and engaging story with a boy at its centre, whom everyone can identify with at some point in their schooldays.
300 pages / Reviewed by Janet Fisher, school librarian
Suggested Reading Age 11+
Other titles