The Unexpected Love Story of Alfred Fiddleduckling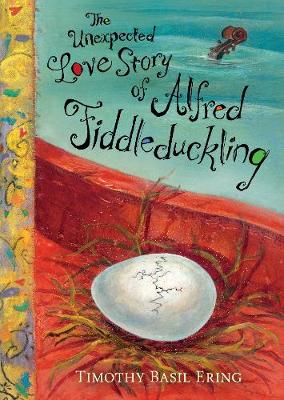 By Author / Illustrator
Timothy Basil Ering, Timothy Basil Ering
Genre
Adventure
Age range(s)
5+
Publisher
Walker Books Ltd
ISBN
9781406374278
Format
Hardback
Published
02-02-2017
Synopsis
A duckling lost at sea discovers his musical talent in this enchanting, heart-warming story from Timothy Basil Ering.

Through an exhilarating read-aloud text and extraordinary artwork, award-winning author-illustrator Timothy Basil Ering shares a thrilling and fantastical story of a farmer, a dancing dog, a fiddle, and one brave, tiny musical duckling that will warm the heart. Captain Alfred is sailing home with new ducks for his farm when his little boat is caught in an unexpected and mighty storm. Everything aboard the ship is flung to the far reaches of the sea, including the very special and beautiful duck egg he had nestled safely inside his violin case. But perhaps all is not lost...
Reviews
Lucy
This story is about a little duckling who becomes lost at sea. He is on his way home to the farm with some other ducks when an unexpected storm whips the sea into a raging fury. As the storm settles, the sky is filled with fog and the little duckling feels all alone. Eventually, he comes across a musical object which makes a beautiful sound. He soon falls in love with it. Alfred, the duckling, and his new favourite object float together until they arrive at an unknown place. As he moves through the fog, a drooling beast appears which makes Alfred tremble with fear. As he begins to make a beautiful sound with his object, the beast stops drooling and begins to dance! The beast and Alfred soon become best buddies and realise that being lost together is much better than being lost and lonely. The story ends with Alfred and the beast being re-united with an old lady which is where they were meant to be before they became lost in the fog! This is a clever story about friendship and how music can bring people together. It is filled with colourful, attractive artwork which adds to the significance of the story. I would recommend it to children in EYFS and KS1. 40 pages / Ages 5+ years / Reviewed by Lucy Newton, Teacher.
Suggested Reading Age 5+
Other titles