The Unexpected Tale of Bastien Bonlivre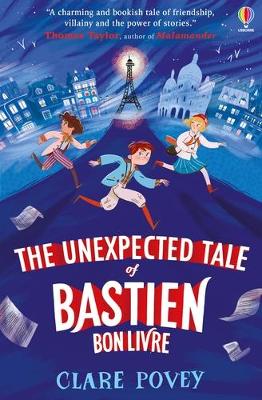 By Author / Illustrator
Clare Povey
Genre
Mystery & Detective
Age range(s)
9+
Publisher
Usborne Publishing Ltd
ISBN
9781474986489
Format
Paperback / softback
Published
02-09-2021
Synopsis
The open door felt like an invitation, or a trap. Bastien wasn't sure which, but with no other choice, he stepped inside...and hoped he'd make it out again alive.
Bastien Bonlivre is a boy with a big imagination, determined to finish the story his parents started, left to him in a red notebook.  On the other side of Paris, bestselling author Olivier Odieux is struggling to complete his latest novel. Along with his villainous brothers, he is masterminding his greatest plot yet...one that will spread fear throughout the city and beyond.
What connects these two stories is a dangerous secret, a hidden mystery and an unexpected race across Paris for the truth. Can Bastien and his friends Alice, Theo and Sami be brave enough to stop Olivier stealing the ending they deserve?A classic adventure story about friendship, hope, bravery and the power of imagination.
Reviews
Rhiannon
Trapped in a Parisian orphanage, mysterious circumstances surrounding his parent's deaths, Bastien Bonlivre follows in their footsteps as a writer and is determined to discover what really happened to his mother and father. Monsieur Xavier, appointed as the new director of the orphanage under suspicious circumstances, seems equally determined to make life difficult for the orphans, Bastien in particular. In the city, meanwhile, authors are going missing and clues seem to point to the dastardly bestselling novelist, Olivier Odieux. It is up to Bastien and his talented friends to escape their prison and work together for justice!
The Unexpected Tale of Bastien Bonlivre is a lovely Parisian mystery for children aged nine and above, with themes of friendship, perseverance, courage and hope in the face of a challenge. However, an excessive use of similes and clunky description takes the reader out of the story to a certain extent, not quite allowing the adventure to breathe. The novel is peppered with French words and phrases that can be found in translation in the glossary at the back, which is a nice touch, but some may find frustrating. Some charming illustrations by Heloise Mab, this is a good bedtime read for fans of Robin Stevens or Anna James.
352 pages / Reviewed by Rhiannon Cook, school librarian
Suggested Reading Age 9+
Other titles