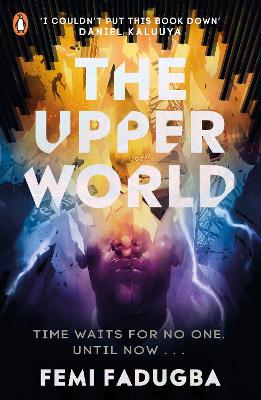 By Author / Illustrator
Femi Fadugba
Genre
Suspense & Thrillers
Age range(s)
11+
Publisher
Penguin Random House Children's UK
ISBN
9780241505618
Format
Paperback / softback
Published
19-08-2021
Synopsis
Shortlisted for the Waterstone's Children's Book Prize 2022 and the Branford Boase Award 2022 for debut writers.
One glimpse of a terrifying future.  One chance to change everything.

After suffering a knock to the head, 15-year-old Esso experiences a chilling vision: that night he will witness the violent deaths of everyone he knows. He writes off the out-of-body experience as a strange dream - until a series of frightening coincidences prove that the vision is just hours away from coming true.  There is only one person who can help him rewrite the future.  The trouble is, she hasn't been born yet . . .

'A superbly original debut' - Guardian.  'A time-twisting, mind-bending thrill ride . . . I loved it!' - Holly Jackson, author of A Good Girl's Guide to Murder.  'Impossible to put down' - The Independent
Soon to be a major movie starring Academy Award winner Daniel Kaluuya. 
Reviews
Clair
This book will appeal to the older teen that enjoys science fiction, maths, physics or London street fiction. The Upper World follows two main characters, Esso and Rhia. Esso is hit by a car and discovers that he has the ability to see glimpses of the future, which don't bode well for his gang of friends. He becomes haunted by a vision of a bullet fired in an alleyway which has devastating consequences. He needs to try to travel in time to keep his friends alive.  Esso struggles with staying on the right path and finds that it is all too easy to get caught up in the neighbourhood gang violence. He is also looking for some way to de-escalate the situation so that the events that he has seen happening don't occur.
Rhia, a foster child, is living in the future, 15 years from now. She is searching for answers from her past. Her mother died when she was young and the past holds the key to understanding the parents that she never got to meet. She is a rising football player who finds a keen interest in physics thanks to her new tutor Dr Esso. She starts to do better in school but is knocked off the rails by a change in family circumstances. She is also forbidden from meeting with Dr Esso.
I think my favourite parts of the book were reading about Rhia's heartbreak at the injustice she suffered and Esso's struggle to stay on the right path. These were the parts of this book that really gripped me.
This YA novel will soon hit Netflix so will likely be very popular and the author studied quantum physics at Oxford University, so the theories are all carefully explained in the appendices. It is a fast paced book that takes turns in sharing both characters' stories. I think this book will be a bit like marmite, you'll either love it or you'll hate it.
368 pages / Reviewed by Clair Bossons, school librarian
Suggested Reading Age 14+
Other titles