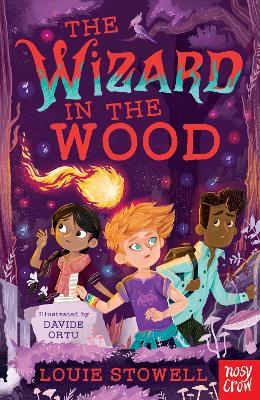 By Author / Illustrator
Louie Stowell, Davide Ortu
Genre
Magical Realism
Age range(s)
7+
Publisher
Nosy Crow Ltd
ISBN
9781788006323
Format
Paperback / softback
Published
14-01-2021
Synopsis
Kit, Josh and Alita are heading back to school - and they're excited to discover that they're getting a brand new library, which also means getting their own wizard librarian... and a dragon! But when something VERY BAD happens at the new library, it's up to Kit and her friends to save the world one more time. The third instalment in the funny, exciting, magical, and action-packed Dragon in the Library series, brilliantly illustrated throughout by Davide Ortu. Have you read the other books in the series? Look out for: The Dragon in the Library and The Monster in the Lake
Reviews
Hayley
Louie Stowell is back with yet another fantastic sequel, The Wizard in the Woods. This epic story of wizarding mystery is a marvellous addition to her previous stories in this collection. It is full of thrilling adventure, dramatic twists, library's, dragons, and evil magic. From the onset you are captivated by illustrations from Davide Ortu and the magical story itself.
We see the return of the main characters, Kit, Alita and Josh. Three remarkably close friends with a special bond that centres around Kit - the wizard. With the six weeks holidays over, the children must return back to school, however a surprise is waiting for them - a new school library. In the wizarding world this is something special, something to be celebrated because every library needs a dragon and a 'book wood'. With the care of the new dragon entrusted to an old school friend of Faith's (Kit's Wizard mentor), everything seems to be going smoothly. That is, until the dragon egg is stolen and an evil magic force tries to bring back the Dragon Masters. Kit and her friends are once again faced with grave danger and they seek to solve the mystery of who the dark evil wizards are.
This book highlights the true test of friendship and the overpowering will that curiosity can create within you. Despite being told to wait, Kit, Alita and Josh defy orders because they cannot leave their friends in a perilous situation. The power of three acts to save the world from dark magical forces before the World Wizarding Council arrives.
I would highly recommend this book as a class story; it would inspire children in both KS1 and KS2 with its thrilling magical adventure. It would also be an excellent teaching resource for narrative workshops on characters and settings within the fantasy genre. Furthermore, there are some poignant points about friendship that could be explore in PSHE in Lower and Upper KS2.
121 pages / Reviewed by Hayley Summerfield, Teacher
Suggested Reading Age 7+
Other titles