The Woodcutter and The Snow Prince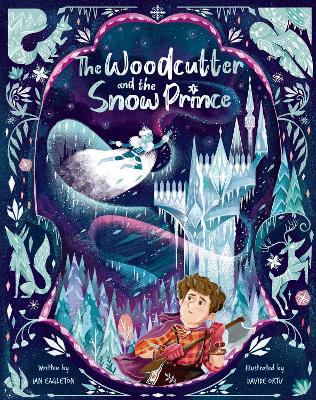 By Author / Illustrator
Ian Eagleton, illus Davide Ortu
Genre
Representation & Inclusion
Age range(s)
5+
Publisher
Owlet Press
ISBN
9781913339494
Format
Paperback / softback
Published
03-11-2022
Synopsis
Follow Kai on a snowy adventure to rescue his snow prince from the cracking ice palace and break the frozen curse, changing Christmas forever! An exciting, inclusive fairy tale to warm even the coldest hearts.
Reviews
Sharon
In The Woodcutter and the Snow Prince, the woodcutter, Kai, is lonely after his grandmother dies. Then we learn about the Snow Prince - part of the Christmas Eve mythology of the town where Kai lives - who is to be avoided if one is to remain unfrozen. Through the exquisite illustrations by by David Ortu Kai and the ravelling text, these two lonely characters meet and then are separated. The curse remains in place. Only Kai's determination to find his friend again can break it.
D (aged 5) sighed at the end and stated, "they should have kissed at the end". Truer words could not have been spoken! The children let out an audible "awww" when listening to this story. It represents real friendship and determination to overcome challenges beautifully.
Picture book / Reviewed by Sharon Porter, teacher.
Suggested Reading Age 5+
Other titles