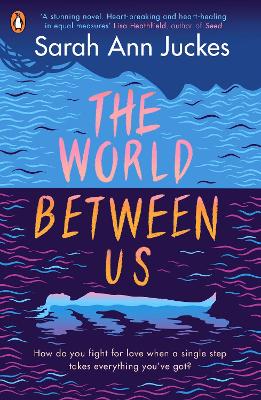 By Author / Illustrator
Sarah Ann Juckes
Genre
Romance & Relationships
Age range(s)
11+
Publisher
Penguin Random House Children's UK
ISBN
9780241462072
Format
Paperback / softback
Published
04-03-2021
Synopsis
With shades of ALL THE BRIGHT PLACES and FIVE FEET APART, THE WORLD BETWEEN US is a powerful and thought-provoking story about falling in love with someone a whole world apart.

Alice may be bed-bound, but every day Stream Cast brings the world to her. From the streets of Tokyo to a masterclass in video games, she experiences other people's wild and exciting lives all without ever leaving her room.  But everything changes when Alice is introduced to a new streamer.  Rowan encourages Alice to stop watching, and start taking control. But Rowan has a secret he's trying to hide from Alice - and from himself.  As Alice and Rowan build a bigger and more beautiful world together, their secrets threaten to tear them apart. Would you risk everything for love?
Reviews
Sharon
The World Between Us is a heart wrenching tale of Alice, bed-bound with the 'Illness', who counts her daily energy levels in spoons. Some days she has enough spoons and other days there's just not enough for her to live her limited life to the full. Alice benefits from Stream Cast, whereby she can access the outside world by screen, experiencing other people's daily lives. This works really well until she is cycling with Wesley, the art teacher at the local school, and he is involved in a fatal accident.
A replacement for Wesley is found in the form of Rowan, a mysterious boy from the local Sixth Form. Together, they start to find out more about each other whilst Alice gets to experience more in her town as opposed to other streamers who take her to Tokyo or onto masterclasses for video games. Rowan is different from the other streamers, he starts to encourage Alice to take control of her experiences online. As they explore together, a relationship blossoms, but Alice is aware that Rowan has a secret that he is trying to hide. Will they be able to overcome this secret? How can Alice help Rowan in his time of need without using up all her spoons?
Poignant, touching and compelling, this novel quickly engages the reader. It is reminiscent of All the Bright Places. I really enjoyed the read despite feeling very emotional for the main characters at times. The ending was a surprise but one that worked perfectly for the storyline and the description of all the emotions at play in their relationship was brilliant.
384 pages / Ages 12+ / Reviewed by Sharon Bolton, school librarian
Suggested Reading Age 11+
Other titles