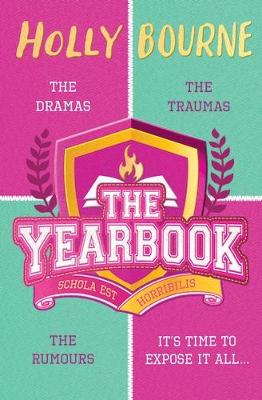 By Author / Illustrator
Holly Bourne
Genre
Bullying
Age range(s)
14+
Publisher
Usborne Publishing Ltd
ISBN
9781474966825
Format
Paperback / softback
Expected
13-05-2021
Synopsis
Finding your voice. Speaking the truth. Falling in love. All the biggest drama happens in high school... Mean Girls meets To All The Boys I've Loved Before in this hugely relatable high-school takedown from the queen of UKYA.
Paige is used to staying quiet in the face of lies. Like how popular girl Grace is a such an amazing person (lie). How Laura steals people's boyfriends (lie). How her own family are so perfect (lie). Now Grace and friends have picked their "best" high-school moments for Paige to put in the all-important Yearbook. And they're not just lies. They're poison. But Paige has finally had enough. And as she starts to find love through the pages of a book, she finds her voice too. Now she is going to rewrite her story - and the Yearbook is the perfect place to do it.  Paige Vickers: Most likely to...bring down the mean girls
Reviews
Lucy
A new Holly Bourne novel is always a cause for celebration and this one is absolutely no exception - I think it's actually her best yet! Year 11 student, Paige Vickers has spent her life doing her best not to be noticed, remaining neutral and not standing out. She steers clear of 'The Awfuls' - the mean girls who put popularity and importance above everyone and everything else, and who have been systematically bullying people all through their school career. Her home life is toxic - she lives under her brother Adam's limelight and she's scared of her father; her mother does everything she can to make sure her father is happy and it makes for a very unpleasant and suffocating existence. Thank goodness for her Aunt Polly who she is able to stay with and get the proper love and support that she needs.
Paige works on the school newsletter and gets roped in to helping on the Year 11 Yearbook by fab librarian, Ms Gordon. Unfortunately, 'The Awfuls', Grace, Amelia and Cara, are working on it too and it soon becomes apparent that they only want to shine a light on themselves and bring down many other people by sarcasm, unpleasantness and utter lies. Can Paige stand up to the bullies and save the Yearbook in time to expose the years of bullying suffered by many of her peers?
Running alongside this is the blossoming friendship between Paige and Elijah - everyone totally needs the adorable Elijah in their life and I defy anyone reading The Yearbook to not shout at the pages towards the end of the novel willing things to progress!
There are many lessons to be learnt here and many themes running through this book making it an incredibly sophisticated read. Bullying, domestic violence, mental health, finding strength and being truthful without hurting people are at the forefront. School isn't the best years of your life for some people and this is a timely reminder that that is so - some people really are just trying their best to get through it with minimum fuss.
To be honest, Holly Bourne had me from the dedication at the start of the book, 'To Libraries, and anyone who has ever needed to hide in one', and I can categorically state that I will be the one 'Most Likely to shout about this book to anyone who will listen!'
Another fabulous, undeniably readable, belter of a young adult novel from the inimitable Holly Bourne!
448 pages / Reviewed by Lucy Georgeson, school librarian
Suggested Reading Age 14+
Other titles