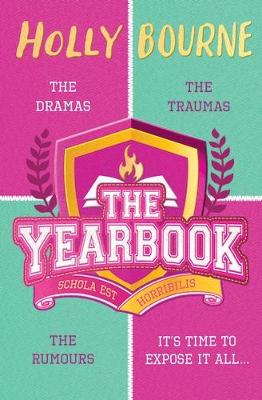 By Author / Illustrator
Holly Bourne
Genre
Bullying
Age range(s)
14+
Publisher
Usborne Publishing Ltd
ISBN
9781474966825
Format
Paperback / softback
Published
13-05-2021
Synopsis
Finding your voice. Speaking the truth. Falling in love. All the biggest drama happens in high school... Mean Girls meets To All The Boys I've Loved Before in this hugely relatable high-school takedown from the queen of UKYA.
Paige is used to staying quiet in the face of lies. Like how popular girl Grace is a such an amazing person (lie). How Laura steals people's boyfriends (lie). How her own family are so perfect (lie). Now Grace and friends have picked their "best" high-school moments for Paige to put in the all-important Yearbook. And they're not just lies. They're poison. But Paige has finally had enough. And as she starts to find love through the pages of a book, she finds her voice too. Now she is going to rewrite her story - and the Yearbook is the perfect place to do it.  Paige Vickers: Most likely to...bring down the mean girls
Reviews
Maddie

- Age 14
Paige tries to live her life under the radar; unnoticed by anyone at school, at home and at the one club she attends. Her best - and only - friend is her Alexa, and she only comes out of her shell one afternoon a week at her Aunt Polly's house. At home, Paige is shoved aside and labelled a nuisance. Her family dedicates all their attention to her brother and all of his achievements, never caring to ask what Paige is doing in her life. And her father makes the home atmosphere tense and suffocating as the mood of their house relies on everything staying perfect in his delicate bubble. Paige's mother's life consists of trying to keep Paige's Father happy, but is blamed as soon as something goes wrong for him, no matter what it is.
Paige is forced into silence at school as well as she attempts to survive without being attacked by the school bullies, AKA 'The Awfuls'. All her free time is spent in the school library with Mrs Gordon, apart from when she helps write the school newsletter, but still she remains quiet there and prints out lies in the newsletter week on week explaining how brilliant the members of 'The Awfuls' are. That is, until she meets the mystery 'red pen' in the pages of a book. They leave smart quotes contradicting the books to fit with reality and then, a message to Paige, replying to (the only trace and memory she leaves behind) her 'I exist' note scribbled in the pages. This red pen leads her on a journey of discovery, both of who she is, and of the power of her voice. With help from them and Aunt Polly, she starts to speak up and defy the people forcing her into the shadows. She learns to find happiness and begins a journey to becoming who she wants to be.
I loved this book as it contained so many important messages and lessons, and I found it easy to fall in love with all the good characters. I rooted for Paige all the way through, willing her to speak up and sticking with her as she learned who the people in her life really were, personality wise and their meaning to her. I would recommend this book to anyone who likes books about finding your footing and growing in confidence, as well as people who enjoy reading about rocky relationships and finding love!
Suggested Reading Age 14+
Lucy
A new Holly Bourne novel is always a cause for celebration and this one is absolutely no exception - I think it's actually her best yet! Year 11 student, Paige Vickers has spent her life doing her best not to be noticed, remaining neutral and not standing out. She steers clear of 'The Awfuls' - the mean girls who put popularity and importance above everyone and everything else, and who have been systematically bullying people all through their school career. Her home life is toxic - she lives under her brother Adam's limelight and she's scared of her father; her mother does everything she can to make sure her father is happy and it makes for a very unpleasant and suffocating existence. Thank goodness for her Aunt Polly who she is able to stay with and get the proper love and support that she needs.
Paige works on the school newsletter and gets roped in to helping on the Year 11 Yearbook by fab librarian, Ms Gordon. Unfortunately, 'The Awfuls', Grace, Amelia and Cara, are working on it too and it soon becomes apparent that they only want to shine a light on themselves and bring down many other people by sarcasm, unpleasantness and utter lies. Can Paige stand up to the bullies and save the Yearbook in time to expose the years of bullying suffered by many of her peers?
Running alongside this is the blossoming friendship between Paige and Elijah - everyone totally needs the adorable Elijah in their life and I defy anyone reading The Yearbook to not shout at the pages towards the end of the novel willing things to progress!
There are many lessons to be learnt here and many themes running through this book making it an incredibly sophisticated read. Bullying, domestic violence, mental health, finding strength and being truthful without hurting people are at the forefront. School isn't the best years of your life for some people and this is a timely reminder that that is so - some people really are just trying their best to get through it with minimum fuss.
To be honest, Holly Bourne had me from the dedication at the start of the book, 'To Libraries, and anyone who has ever needed to hide in one', and I can categorically state that I will be the one 'Most Likely to shout about this book to anyone who will listen!'
Another fabulous, undeniably readable, belter of a young adult novel from the inimitable Holly Bourne!
448 pages / Reviewed by Lucy Georgeson, school librarian
Suggested Reading Age 14+
Sharon
Paige is used to being a non-entity at school and at home, she gets on with her life trying not to draw attention to herself. Her home life is traumatic; she is a victim of emotional abuse and neglect whose brother is idolised whilst she is at best ignored.
Paige is a Year 11 student who enjoys working on the school newspaper and spending her time in the safe haven of the school library, with the friendly Ms Gordon. Never one to be part of the "The Awfuls" who are her polar opposites; who bask in the attention of others and revel in bullying their peers. Imagine Paige's dismay when the newspaper team are dragooned into helping with the Year 11 Leavers Yearbook along with "The Awfuls" who terrify and appall her and want to rewrite history to make themselves look good.
At the same time Paige decides to release her feelings about her complex life by pencilling in the phrase "I exist" in the margins of a library book. Then she notices someone has replied in red pen. This is the start of a written friendship which is reminiscent of The Twelve Days of Dash and Lily. When the red pen author is revealed as Elijah, a good looking, witty and quirky sixth former, Paige finds her confidence faltering initially, but they do have common ground. Elijah is intuitive to her feelings and full of great advice. Thank goodness her Aunt Polly, a cancer survivor and crazy cat lady, takes Paige under her wing too. With the knowledge of people who she can trust standing up for her, Paige starts to work through her feelings about her abusive home life, the loss of a friendship and standing up to the bullying popular group. 
This book does contain a lot of hard hitting themes, mental health, emotional abuse, attachment (or lack of), systemic bullying, cancer survivor but as ever, Holly Bourne has melded these into a very readable and completely credible story which shows Paige finding herself and her voice and standing up to the complexities in her life as well as finding love. A truly engaging read and one I would recommend to all the quiet students who feel like they are a non-entity. Holly Bourne has excelled herself once again!
441 pages/  Reviewed by Sharon Bolton, school librarian.
Suggested Reading Age 14+
Other titles