There's a Beast in the Basement!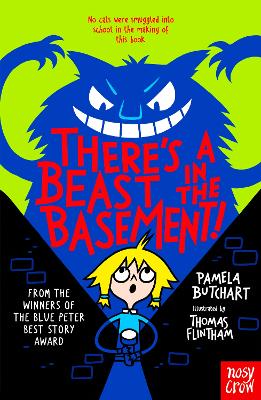 By Author / Illustrator
Pamela Butchart, illus Thomas Flintham
Genre
Funny Stories
Age range(s)
7+
Publisher
Nosy Crow Ltd
ISBN
9781839940514
Format
Paperback / softback
Published
12-01-2023
Synopsis
Chaos and mayhem reign as Izzy and her friends take on another hilarious (mis)adventure. There's no such thing as an ordinary day at school when they're around... Izzy and her friends overhear their head teacher talking about "missing treasure" and "running out of time". They know this means there's TREASURE buried in the school somewhere and that Mr Graves wants it all for himself. So Jodi says they've got to find it first, and they should start by searching the staffroom.
After seeing things they will never forget, they head to the basement. Gary Petrie's dad is working down there and he's seen something SHINY! So they send Zach's cat down with a camera strapped to her head and study the footage carefully. What they see is SHOCKING and CHANGES EVERYTHING. It's not treasure in the basement, it's a BEAST with SHINING EYES and it's coming to get them! RUN!!!
Reviews
Sam
There's a Beast in the Basement is another fab laugh-out-loud book by Pamela Butchart. Once again Izzy and her friends are on the road to adventure after overhearing their Headteacher, Mr Graves, talking about 'missing treasure'. Mr Graves is certainly behaving strangely and the children are sure that he wants to keep the treasure all for himself, so they are more than determined to find the treasure first. Teaming up with a new unexpected member, Gary Petrie, not only provides the group with the tastiest of pizzas, but Gary also has some super sleuthing ideas to help them find out just what is hiding in the school basement. So with the help of Gary's cat Cheese and Onion and his 'Cat Cam', they set of to find out just what it is hidden behind the boiler in the school basement.
Pamela Butchart's books are great for young readers; a guaranteed fast-paced adventure that will keep the reader on the edge of their seat; while fun illustrations by Thomas Flintham will help keep those who have yet to develop a good reading stamina entertained. A great read for any LKS2 reader.
224 pages / Reviewed by Sam Phillips, teacher
Suggested Reading Age 7+
Jenny
There are huge laughs once again in There's a Beast in the Basement!, the latest adventure with Izzy and the gang. When the school day starts with the head teacher to be found crawling along corridors on his hands and knees and silently sobbing whilst leading the assembly, the gang knows that something is SERIOUSLY wrong. When they overhear talk of 'missing treasure' and put this together with the frantic searching by Mr Graves, the gang OBVIOUSLY excitedly deduce that there must be riches hidden within the school somewhere…  Then, when the search seems to turn sinister and the school basement is opened up (who even knew there was a basement!) AND strange sounds and sights are reported from within .. well, then the tension, drama and endless questions start piling up for the gang. Is there a dreadful beast living hidden in the basement? Does it guard the treasure ? Is Mr Graves planning to grab the treasure all to himself?
With so much mystery around, the gang need emergency meetings in the Den asap. They need to make sure they have the usual stack of snacks for Maisie's nerves and, as usual, Jodie expects to take up her role as leader if they are going to solve the mystery. I love the comforting pleasure with this series, of the certain familiarities the reader has with the regular characters; it is like being one of the gang as you read and predict their individual reactions.
There's a Beast in the Basement! is fantastically funny and a joy to read. Pamela Butchart always brings something new to the next adventure though; another layer or detail about a character and another trait unveiled or glimpse into their background . In this story, the infamous Gary Petrie very much takes centre stage (alongside his pizza master chef dad and his head-cam wearing cat ).
Of course, this is a hurtling riot of a story which thunders along with non stop laughs. The hugely exaggerated and wildly inventive theories of the gang and the plainly daft attempts to find the "treasure" are thoroughly entertaining. The brilliant illustrations by Thomas Flintham and the text and layout that leaps from the pages make the story even more vibrant and engaging . The Beast in the Basement is fast, fun and gleefully chaotic - totally adored in my Y4 class!
224 pages / Reviewed by Jennifer Caddick, teacher
Suggested Reading Age 7+
Other titles