There's a Dragon in my Backpack!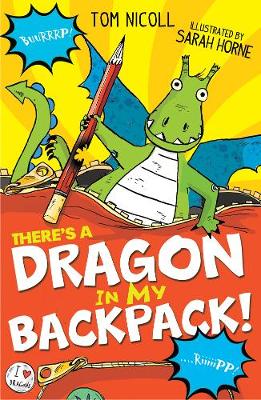 By Author / Illustrator
Tom Nicoll, Sarah Horne
Genre
Adventure
Age range(s)
7+
Publisher
Little Tiger Press Group
ISBN
9781847156761
Format
Paperback / softback
Published
05-05-2016
Synopsis
Book two in a hilarious new series featuring one boy and a little dragon with an oversized appetite for adventure. Eric finally succumbs to Pan's demands and agrees to take the Mini-Dragon to school with him. But Eric gets more trouble than he bargained for when nightmare neighbour Toby switches his backpack with Eric's and dragon-naps Pan! Now Eric must dash across town to Toby's posh school and swap them back before his snappy secret is out!
Perfect for fans of Jeremy Strong and Compton Valance, with hilarious illustrations from Sarah Horne, illustrator of Sam Copeland's CHARLIE CHANGES INTO A CHICKEN.
Reviews
Emily
Pan the miniature dragon is back and he's up to even more mischief! There's A Dragon in my backpack is the hilarious fast paced sequel to Theres A Dragon in my Dinner, where we were first introduced to the loveable minuscule prawn cracker-guzzling dragon, when he is delivered to Eric's house with the beanspouts in his Chinese takeaway meal. They instantly become friends and find themselves getting into all sorts of trouble. In the sequel, Pan hitches a ride to school in Eric's backpack to beat the boredom of staying home alone. Unfortunately, he is spotted by the Eric's evil and heartless cricket bat wielding teacher Miss Biggs and only narrowly escapes extermination. Eric doesn't get off quite so lightly and his actions concealing the whereabouts of a 'rodent' who is actually a mini dragon result in a detention. The following day Pan again decides to stow away in Eric's backpack again: you'd have thought he had learnt his lesson by now and matters only get worse! Eric's backpack - with Pan inside - is misappropriated by Toby the spoilt boy next door for his show and tell assembly at his 'La-Di-Da' school. An ingenious master plan unfolds as Eric and his friends attempt a daring rescue mission whilst still serving detention. Eric again discovers that whilst mini dragons make terrible pets they do make the best kinds of friends! You do not have to read the first book to be enthralled by the second. With an equal measure loveable and loathable characters this is a funny calamitous riot of a tale. Sarah Horne's illustrations bring the story to life and the injection of Eric's side notes make fantastic additions to the book and a rest from the dialogue of the story. The pace and length of this book make it ideal for both the 'reluctant' reader and the emerging independent reader. Readers will love the discovering what happens when you take a mini dragon to school with you in your backpack! 144 pages / Ages 7+ / Reviewed by Emily Beale, primary school librarian
Suggested Reading Age 7+
Other titles