There's a Dragon in my Toilet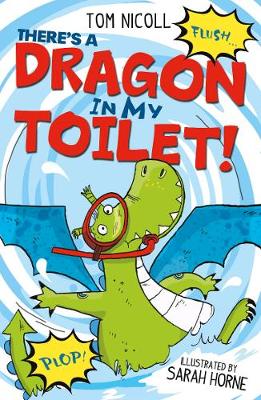 By Author / Illustrator
Tom Nicoll, Sarah Horne
Genre
Adventure
Age range(s)
7+
Publisher
Little Tiger Press Group
ISBN
9781847157171
Format
Paperback / softback
Published
11-08-2016
Synopsis
Book three in a hilarious new series featuring one boy and a little dragon with an oversized appetite for adventure. Pan is missing his parents in China and is delighted when Eric helps him to speak to them over the internet. But his joy turns to despair when his parents announce that they are sending his aunt and uncle to bring him home. Travelling through the sewer system, Pan's relatives show up in Eric's house via his toilet ... and they're not going back without him!
Perfect for fans of Jeremy Strong and Compton Valance, with hilarious illustrations from Sarah Horne, illustrator of Sam Copeland's CHARLIE CHANGES INTO A CHICKEN.
Reviews
Lauren
This is the third instalment of Eric and Pan's adventures, with the very funny There's A Dragon In My Toilet. Pan is a Mini-Dragon living with Eric and his family who is threatened to move to Mexico with his Aunt and Uncle. Pan obviously doesn't want to leave Eric and his friends which means chaos and mayhem in Eric's house! Fortunately for Eric, his parents have no idea they have a Mini-Dragon living in their home. The book shows the bond and strength between friends and what they would do for one another, which would be a brilliant PSHE starting point for a class. This book would be brilliant for children aged 7-9. It is really funny and found myself laughing throughout. The story is fast paced and never runs out of action, which is great for younger readers. The illustrations are hilarious and they bring the story to life. Having read this I want to read the others and give them to my class to read! 154 pages / Ages 7+ / Reviewed by Lauren Maidman, teacher.
Suggested Reading Age 7+
Other titles