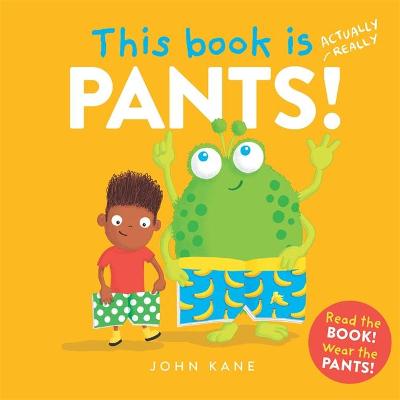 By Author / Illustrator
John Kane
Genre
Picture Books
Age range(s)
3+
Publisher
Templar Publishing
ISBN
9781787419230
Format
Paperback / softback
Published
16-09-2021
Synopsis
An intergalactic adventure with pants from the author of I Say ooh, You Say Aah.In this completely pants adventure story, you, the reader must bravely wear the right pants to help our hero and his alien friend on their journey. What pants do you need to launch a rocket? Space pants! What about to climb a tree? Monkey pants! And what are teh best pants of all? Well, you might have to find that out for yourself.Open the book, wear the pants, get ready for hilarity.
Reviews
Kyle
This Book is Pants! is the latest release from John Kane, author of the superb I Say Ooh, You Say Ahh and I Say Boo, You Say Hoo. Those who are familiar with John's work will not be surprised to learn that this text is full of audience interaction and humour which will engage and captivate audiences from start to finish. In this completely pants adventure story, the reader must bravely wear the right pants to help our hero and his alien friend on their journey. Climbing a tree? Monkey pants are what you need! Learning a new language? Smarty pants will help! Got a rumble in your stomach? Pizza pants to the rescue! This book is full of all sorts of pants to help move through the story.
With the brilliant book design, where pages resemble pairs of pants to wear, this text is truly one of a kind. The narrative itself is very simplistic but this is part of the success of the story - a simple story with a twist. The story revolves around the main character of a young boy who decides, one day, to go to space. In order to do this he needs to put on the his space pants. Opening up this double page spread reveals a space themed pair and, as the rules of the book dictate, readers must don this pair and show them off to the audience. This, of course, ensures laughter and hilarity which is repeated throughout the story. This is why the simplicity is key as children enjoy the difference scenarios that occur and the different pants required
I read this with my class of Y1 children and the response was spectacular. They laughed, smiled and engaged throughout the whole text and loved guessing what pants were going to be needed for each part of the adventure. I will repeatedly read this book with younger audiences as a way of truly engaging children in reading for pleasure and enjoyment.
The simple story and bright, vibrant illustrations make this the perfect story to share with EYFS and KS1 children. John is the champion when it comes to creating books which show off how fun a text can be. I will be sharing this with my work colleagues throughout the year and I can see how this text could be used to produce fun artwork as well as make links with NSPCC Pantosaurus initiative.
52 pages / Reviewed by Kyle Matravers
Suggested Reading Age 3+
Other titles