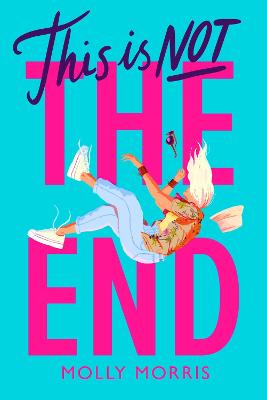 By Author / Illustrator
Molly Morris
Genre
Romance & Relationships
Age range(s)
14+
Publisher
Chicken House Ltd
ISBN
9781913696214
Format
Paperback / softback
Published
02-06-2022
Synopsis
Part road-trip drama, part comedy and part romance, This is Not the End packs a huge pop-culture punch with a twist - perfect for fans of Adam Silvera!
Ever since the sudden deaths of his parents, 17-year-old Hugh has developed a serious preoccupation with endings - and things get a little complicated when he meets Olivia Moon, a high-school outcast who can't die. But if he wants to learn more about her impossible power, he'll have to drive Olivia to New York and help retrieve a stolen crate of her most treasured possessions. As his feelings for Olivia grow, Hugh embarks on a road trip he'll never forget. Can she help him to accept that unsatisfying, messy endings are just a part of life?
An unforgettable contemporary YA debut with a unique twist Follows two teens trying to figure out their own stories. Perfect for fans of TikTok hits such as Adam Silvera's They Both Die at the End.
Reviews
Louise
Hugh Copper and Olivia Moon are about embark upon a road-trip that will ultimately change both of their lives, and perspectives, forever. The fact that they do so in a stolen ice cream truck only adds to the quirky nature of this narrative. You see, while Hugh is obsessed with endings - terrible ones, at that - it would appear that Olivia Moon is unlikely to experience an ending of her own.
This Is Not The End had me at the ice cream truck... Molly Morris successfully held my interest from the first to the last page, creating characters that I cared about and situations I could imagine. Yes, Hugh has a penchant for imagining endings of his own, but that only added to the twists and turns of the novel. However, for a book about endings which often dwells on loss, This Is Not The End has an inescapably optimistic ending - one of hope, and of self-affirmation.
I immediately wanted more of Hugh and Olivia's story, and to finally taste some of the Killer ice cream that's so deliciously woven into the narrative. I'd have loved more from some of the other characters too, particularly Hugh's sister Ellen and best friend Razz. Perhaps we'll find out what happens next, one day! As an aside, I was so excited to discover that Molly Morris has a 'This Is Not The End' playlist, which is everything I hoped it would be and more. The many musical references only add to the soul of the book, which readers can relive via the playlist on Molly's blog.
I would recommend This Is Not The End for readers on the cusp of KS3 and KS4, since it incorporates some mature subjects. Its themes of friendship, loss, acceptance and moving on will appeal to wide variety of readers, interested in any number of genres.
336 pages / Reviewed by Louise Baker, school librarian
Suggested Reading Age 14+
Other titles