Tim Hopgood's Wonderful World of Colours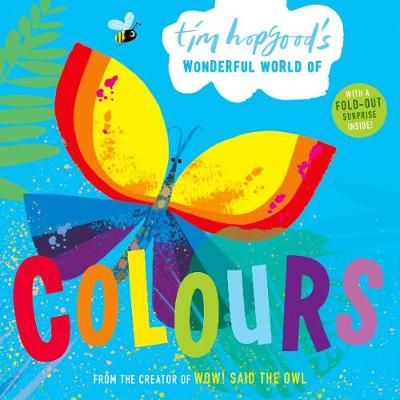 By Author / Illustrator
Tim Hopgood
Genre
Baby & Toddler Books
Publisher
Oxford University Press
ISBN
9780192766793
Format
Hardback
Published
03-06-2021
Synopsis
A beautifully illustrated board book that delights in everything that grows, from red strawberries to yellow bananas. With bright, joyful art, it is a beautiful introduction to colours, and shows the youngest children how colours can be mixed to create new ones. It ends with a stunning fold-out rainbow to make this a truly special book for the youngest children.
Reviews
Ellen
This is a beautiful board book that cleverly takes the introduction of colour a little further than most board books for young children. In Tim Hopgood's Wonderful World of Colours, we are introduced to red ('like strawberries'), blue (like the sky) and yellow (like the sun), and then we are shown how mixing colours can create other colours, like green and purple. We are also shown how things can change colour; leaves from green to brown, or bananas from yellow to black.
This is a clever way to start encouraging very young children to see the colours around them in a different way, associating colours with different objects, but also showing how colours change - and the magic of mixing your own colours! (and not getting a brown sludge!).
Although this is great for babies and toddlers - who will love the fold out rainbow at the end - it would also work really well in early years settings and reception classes, as it develops the idea of mixing colours and colours that change with time or the seasons. It is also fabulously illustrated with bright, attractive pages.
Board book / Reviewed by Ellen Green
Suggested Reading Age 0+
Other titles