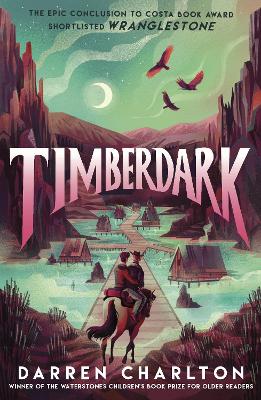 By Author / Illustrator
Darren Charlton
Genre
Dystopian
Age range(s)
14+
Publisher
Little Tiger Press Group
ISBN
9781788953061
Format
Paperback / softback
Published
01-09-2022
Synopsis
With the tide turned against the Dead, Peter and the remaining community on Wranglestone prepare to leave for town, where the comforts of the world before await them. Could this be the home that finally brings both safety and unity for all?   Cooper isn't so sure. He harbours feelings from that terrible night on the lake and worse, a secret ... codename, Timberdark.  With Cooper's new found connection to the Dead, Peter's suspicions about what he might do next grow. Faced with losing the boy he loves, Peter must uncover the truth about the mysterious Timberdark before their future together and the world around them is placed in danger.

A thrilling and thought-provoking sequel to the winner of the Waterstones Children's Book Prize for Older Readers, Wranglestone.

Praise for Wranglestone:  "Thrilling zombie epic meets gorgeous gay love story. The world-building is deft, the writing poetic ... this is very special! Properly scary and properly heart-warming." - William Hussey, author of HIDEOUS BEAUTY.  "Charlton's fantastic debut is both a page turning zombie thriller and a beautifully drawn gay love story." - i Newspaper.
Find out more from author Darren Charlton
Reviews
Stephen
Timberdark picks up where Wranglestone left off, but there are still secrets and discoveries to be made at the heart of Lake Wranglestone..... The dead are not the threat they were, and Peter and Cooper now travel the wilderness around Lake Wranglestone looking for returnees (those who have died from the zombie infection but returned to life), to invite them to the safety of Wranglestone. After all, it was always meant to be a refuge for them. Yet an encounter with a shadowy Ghost Ranger while exploring Yellowstone Park changes life for them and the residents of Lake Wranglestone, as the population are moved to a nearby 'gateway' town where the community and returnees are living together and are prepared for resettlement elsewhere.
Peter has always dreamed of town life, relishing the new experiences the move could bring, though Cooper would rather stay on the lake. But the menacing word 'Timberdark' has now entered their lives and is something Cooper refuses to discuss with Peter, despite having knowledge of it. As Peter tries to make sense of this new situation and the changes happening to Cooper (his trances and talking to the dead), uncovering the true meaning of Timberdark becomes paramount as it threatens not only his relationship with Cooper but could threaten the survival of the community around them.
Timberdark is an intriguing and exciting sequel, building on the revelations and events of Wranglestone, and its themes of friendship, family, trust and survival. It was great to join Peter and Cooper again, the two characters at the heart of this novel, and to follow their relationship. And what a rollercoaster of emotions Darren Charlton's writing took me on!
What I particularly enjoy about Charlton's writing is his descriptions, whether of places, emotions, people or situation. The description of landscapes I found beautiful - I could see and feel what was going on. His ability to create and built a sense of atmosphere, particularly menacing and eerie, is great. When describing the failing relation between Cooper and Peter the writing is so real; "...the space between the beds became a canyon". Powerful, visual and direct. Brilliant!
What's also great to see in both Timberdark and Wranglestone is how the relationship and love between Cooper and Peter is talked about openly, never negatively or as something different. They're just two young people in love, getting with their lives, and that's a positive thing to see. While including other characters from Wranglestone, Timberdark also includes plenty new ones including my favourite Teddy. I really felt for him and what happens to Teddy left me bereft! 
There is so much to enjoy about Timberdark, from the relationship of Peter and Cooper to the mystery of what is Timberdark - a mystery that kept me guessing to the end. I feel there is enough of the back story carefully interwoven into the novel that you could read this as a stand-alone novel, though to get the best out of it I would advise reading Wranglestone first. Immerse yourself in the world of Lake Wranglestone - you won't be disappointed.
384 pages / Reviewed by Stephen Leitch, school librarian
Suggested Reading Age 14+
Other titles