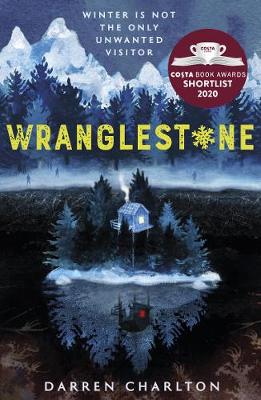 By Author / Illustrator
Darren Charlton
Genre
Dystopian
Age range(s)
14+
Publisher
Little Tiger Press Group
ISBN
9781788951210
Format
Paperback / softback
Published
06-02-2020
Synopsis
Winter was the only season every Lake-Lander feared... In a post-apocalyptic America, a community survives in a national park, surrounded by water that keeps the Dead at bay. But when winter comes, there's nothing to stop them from crossing the ice.  Then homebody Peter puts the camp in danger by naively allowing a stranger to come ashore and he's forced to leave the community of Wranglestone. Now he must help rancher Cooper, the boy he's always watched from afar, herd the Dead from their shores before the lake freezes over.
But as love blossoms, a dark discovery reveals the sanctuary's secret past. One that forces the pair to question everything they've ever known.
'Thrilling zombie epic meets gorgeous gay love story. The world-building is deft, the writing poetic ... this is very special! Properly scary and properly heart-warming.' - William Hussey, author of Hideous Beauty.  'A complete treasure of a book - page-turning, stunning writing, an extraordinary setting and with a gorgeous love story at its heart.' - Lisa Heathfield, author of I Am Not a Number.
Sequel:  Timberdark
Reviews
Emelia
Wranglestone is set in a post-apocalyptic America after a plague has brought back the dead, and follows the lives of people surviving in a settlement. Peter and his dad are living by a lake when, one evening, Peter allows a stranger to come far to close, not realising the danger it would put himself and the others in. Winter is coming and with it the lake will freeze, and the 'restless' (the living dead) will come, but is all as it seems? Will Peter and the others find out the truth and survive the winter?
Wranglestone is the first ever book I have read that has made me shed a tear or two. Watching the blossoming relationships alongside the danger and twists is truly a work of art.
384 pages / Reviewed by Emelia Helliwell, school librarian
Suggested Reading Age 11+
Daniel
In the middle of a lake in an isolated American National Park lives the community of Wranglestone. Peter is much happier wielding a darning needle than a weapon, but in a post-apocalyptic, zombie-infested world, his skill set is not always appreciated. Especially when winter comes, when the lake freezes over, and there is nothing to stop the Restless Ones from moving in. So Peter is made to go out and help Cooper - a boy he's always had a secret crush on - to herd the zombies away from their shores before the it's too late. As Peter and Cooper's relationship develops, together they make a discovery that makes them question everything they though they knew about their world.
Wranglestone is a tense YA coming-of-age queer romance zombie horror survival adventure thriller. The world building is excellent. It's isolated, post-apocalyptic National Park setting is beautifully atmospheric, creating an aura of both bucolic serenity and claustrophobic threat. The nature of their world is slowly revealed throughout the novel. The characters all felt real and - especially the main two protagonists - had believable and satisfying development arcs.
The central romance of the story was lovely and I really appreciated the way their relationship was accepted by the community, that their queerness was not a big deal. It did take me a little while to get into the book - at the start, there were parts that were unclear, and I didn't know if that was due to bad writing, me missing something, or just needing to be patient until things fell in to place (it was the last one). With the COVID-19 outbreak, Wranglestone now feels exceptionally timely and prescient, dealing as it does with a viral outbreak that changed the way people lived. I would recommend it to mature KS3 readers and older, and it will appeal to a broad range of readers - dystopian and apocalyptic fans, horror fiends, romance lovers and thriller seekers.
384 Pages / Ages 12+ / Reviewed by Daniel Katz, school librarian
Suggested Reading Age 11+
Other titles