Tinsel: The Girls Who Invented Christmas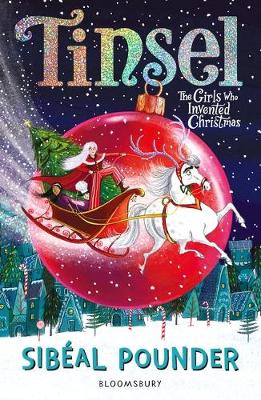 By Author / Illustrator
Sibeal Pounder
Genre
Magical Realism
Age range(s)
9+
Publisher
Bloomsbury Publishing PLC
ISBN
9781526619273
Format
Hardback
Published
29-10-2020
Synopsis
What if somewhere along the way we've all got the Santa story a bit wrong...? Join Blanche Claus and her best friend Rinki for a funny festive sleigh ride you'll never forget! From Sibeal Pounder, bestselling author of the Witch Wars and Bad Mermaids series, this tale of friendship and mince-pie feasts is the perfect book to curl up with this winter. Funny, feminist and with a huge heart, it's a gloriously Christmassy adventure that will delight even the biggest Grinch.
Reviews
Hayley
Tinsel by Sibeal Pounder is a brilliant new Christmas book with a twist. The story is seeped with powerful themes of friendship, feisty girls, gender roles and adventure. This refreshingly original story on the origins of Santa is hilarious and heart-warming and crammed full of adventure.

From the onset, we are introduced to the orphan of Blanche Claus who lives alone in the Victorian streets of London, under a bridge. Life is dismal until one Christmas Day she receives her very first Christmas present - a red bauble from an old woman with a magical touch. Blanche carries the bauble everywhere and soon her life begins to change; she discovers a horse named Rudy that needs an owner and meets a friend with a wrapping paper skirt. Although some of the events seem surreal to Blanche, she enjoys the change from being lonely and accepts the unusual reality.

The corner where the Christmas trees are sold is where Blanche meets Rinki, a fellow orphan and soon to be best friend. They enjoy a mince pie picnic and plan future dreams of spreading Christmas spirit. However, it will be five more years until fate helps to reignite their friendship, when Blanche is asked to deliver an unusual silver box to a house in Stratton Street, where she discovers her long lost friend, Rinki.

This is the start of adventures that see Blanche escaping as a stowaway on the Jolly Holly ship, meeting 'Santa' - the ships cook, who feeds her with delicious mince pies and hot chocolate - and discovering the mysterious contents of the silver box...

This magical story allows us to explore an alternative story from the original Santa story. I absolutely adore this beautiful Christmas story and could not put it down. Its magical ability to create Christmas through mince pie picnics and steaming mugs of hot chocolate tantalises the senses. This would be an excellent class story for any year group but would especially link to Year 5 or Year 6 studying a Victorian Christmas curriculum.

305 pages / Reviewed by Hayley Summerfield, teacher
Suggested Reading Age 9+
Donna
Many moons ago, Christmas wasn't the magical time of year that it is today. There was no one to deliver presents, no one for children to write to, no tinsel, no reindeers, no magic. Until of course, a young girl called Blanche, who lived all alone under a bridge, met a mystical old lady, who gifted her a magical bauble.

That gift changed Christmas as we know it.

As Blanche realised her dream to own a horse called Rudy and to become the best carter in town (even though girls weren't allowed to be carters in those days), her dreams to make Christmas special for every child grew and grew. Along with her dear friend Rinki, they dreamed up the idea that all children should receive a special gift at Christmas. It was a chance job to deliver a much sought after silver box that transformed that dream into a reality.

Meeting Carols and a chef called Santa on the way, Blanche drives her idea into the magic of Christmas that we know today.

In Tinsel: The Girls Who Invented Christmas, Sibeal Pounder gently unfolds the magic of Christmas in this intricate and well wrapped gift of an adventure story. Her tremendous skill of dropping hints and clues, that link to the final outcome, work as well as any detective story. Children will delight at finding out the real reason that we have tinsel and why Claus has a beard (or is it a face warmer?).

The underlying message to realise your dreams is a strength throughout the story. It was an utter joy to read and would fill anyone with Christmas spirit. 
Links to friendship, believing in your dreams, perseverance, feminism, truth, teamwork, trust and, of course, the very magical ideas of Christmas.

305 pages / Age 9+ / Reviewed by Donna Burkert, teacher
Suggested Reading Age 9+
Other titles