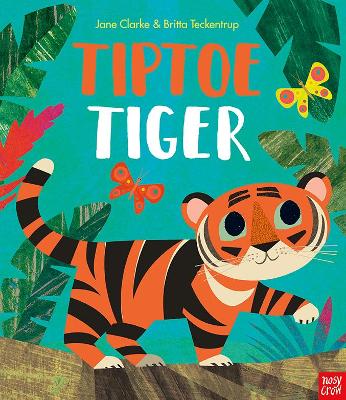 By Author / Illustrator
Jane Clarke, Britta Teckentrup
Genre
Animals
Age range(s)
3+
Publisher
Nosy Crow Ltd
ISBN
9781788006538
Format
Hardback
Published
05-08-2021
Synopsis
A delightful interactive picture book, filled with vibrant neon artwork by award-winning Britta Teckentrup. The sun is going down in the jungle. But Tara the tiger cub is wide awake! Who will play with Tara? The beautiful butterflies? Or the hooting owls? Or will Tara's bouncing and pouncing scare them all away? In this delightful interactive book, filled with vibrant neon artwork, children can help Tara along her journey by spotting animals on the page, reminding Tara to tiptoe and warning her about the snappy crocodile. Then, when it's time for Tara to settle down in bed with her mummy, they can wave goodbye and whisper "night, night". The perfect bedtime story for any lively child who needs a bit of help settling down at bedtime!
Reviews
maria
Young children will love Tiptoe Tiger and won't be able to stop themselves becoming fully engaged and involved with the story! It's a fantastic book to use as an introduction to early listeners, with it's inter-activeness and beautifully vibrant illustrations.
It's nearly night time in the jungle, but young Tara the tiger is wide awake and wants to bounce and pounce - just like many little children at bedtime! But look closely, there's a beautiful, bright wing. It's a butterfly! Will it want to bounce and pounce with Tara? We need to whisper to Tara.. 'Tiptoe tiger'. Oh no! She frightened the butterfly. 'Can you flutter your arms as fast as that?' 'You can!' Next, there's colourful feathers. These little picture clues can help children to recognise and predict what creature is coming up next. It's peacock next, then monkey, owls to count, crocodile and finally Tara's Mum.
Each page is very interactive with actions; repetition, onomatopoeia and even counting! After all the bouncing and pouncing, Tara is feeling sleepy and all she wants now is a cuddle with her mummy. With a final yawn and a whisper of 'night, night,' Tara is asleep - will your little ones be too?
24 pages / Reviewed by Maria Faithorn
Suggested Reading Age 3+
Other titles