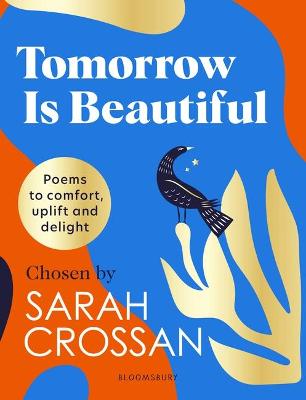 By Author / Illustrator
Sarah Crossan
Genre
Poetry
Age range(s)
11+
Publisher
Bloomsbury Publishing PLC
ISBN
9781526641892
Format
Hardback
Published
30-09-2021
Synopsis
Sometimes it's hard to find the right words. This poetry anthology provides the antidote, offering calm, hope and peace to all. Focusing on positivity, this is the perfect collection to dip into whenever you need a boost. Containing a selection of classic poems from Langston Hughes, Walt Whitman, Emily Dickinson and Christina Rossetti, as well as contemporary poems chosen by Sarah Crossan, this beautiful book will lift your spirits time and time again. An essential read and the perfect gift for anyone in need of comfort, joy and hope.  For fans of The Poetry Pharmacy and Poems to Live Your Life By
Reviews
Clare
Tomorrow is Beautiful is a carefully crafted anthology assembled by renowned verse novelist Sarah Crossan is an uplifting and positive collection that manages to steer away from sentimentality. Drawing from the works of well-known poets - Christina Rossetti, Walt Whitman and Maya Angelou, contemporary writers - Kwame Alexander and Joshua Cullen, and her own material, Crossan has built a collection that is both inspirational and empathetic.
There are many poems that are sure to resonate with readers and Crossan is open about her own struggles which she details in poems such as Notes from the Pit and Rise. Designed to appeal to a broad range of ages and reading abilities, the book is beautifully spaced and paced - helpful annotations sit alongside blank pages where readers can add their own thoughts, notes and even poems. As Crossan herself says, not all of these poems will appeal to everyone but there is so much joy and comfort here that most readers are likely to find something to enjoy and - as Crossan is so keen on memorisation - to remember.
This is an anthology that can be dipped into, but many readers will surely want to enjoy this calm and hopeful book in a single session.
304 pages / Reviewed by Clare Wilkins
Suggested Reading Age 11+
Other titles