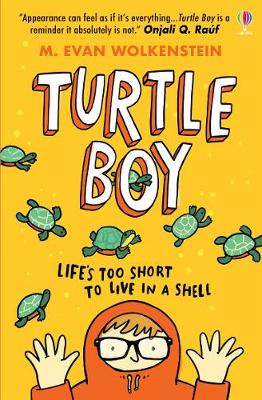 By Author / Illustrator
M. Evan Wolkenstein
Genre
Personal Growth
Age range(s)
9+
Publisher
Usborne Publishing Ltd
ISBN
9781474981385
Format
Paperback / softback
Published
06-08-2020
Synopsis
Twelve-year-old Will likes two things: turtles and the local nature reserve. Everything else is a nightmare, because Will has a facial difference that has earned him an unfortunate nickname. But when Will's Bar Mitzvah community service project introduces him to RJ, a boy who is confined to a hospital room, Will discovers they both have strength to lend the other and that life is too short to live in a shell.
Q&A with author M Evan Wolkenstein, introducing Turtle Boy
Reviews
Donna
Turtle Boy is a must read for fans of Goldfish Boy and Wonder. It follows 12 year old Will Levine as his Bar Mitzvah approaches. As part of his community service project, he meets RJ who is very ill in hospital.

Will Levine's life has been hard; he is picked on at school because of a facial disfigurement (giving him the nick-name Turtle Boy); his dad died during a routine hospital operation when Will was only four years old and his mum struggles to cope so finds it difficult to talk to Will about him. Will's only escape is the wild area of ground next to his school, and his wild turtles that he collected from here.

His relationship with RJ gets off to a rocky start but ends up giving Will the confidence to challenge who he is. The strength of friendship is a powerful tool to enable Will to overcome many obstacles in his life.

Wolkenstein's debut novel touches every emotion and brings out such compassion. A book with a message for everyone - Life's too short to live in a shell.

400 pages / Ages 10+ / Reviewed by Donna Ritchie, teacher.
Suggested Reading Age 9+
Other titles