Ultrawild: An Audacious Plan for Rewilding Every City on Earth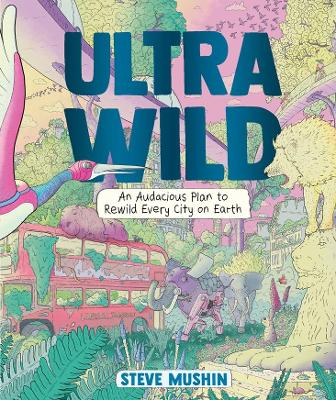 By Author / Illustrator
Steve Mushin
Genre
Environment
Age range(s)
9+
Publisher
A&U Children's
ISBN
9781760292812
Format
Hardback
Published
31-10-2023
Synopsis
Join maverick inventor Steve Mushin as he tackles climate change with an avalanche of mind-bending, scientifically plausible inventions to rewild cities and save the planet. Jump into his brain as he designs habitat-printing robot birds and water-filtering sewer submarines, calculates how far compost cannons can blast seed bombs (over a kilometre), brainstorms biomaterials with scientists and engineers, studies ecosystems and develops a deadly serious plan to transform cities into jungles, rewilding them into carbon-sucking mega-habitats for all species, and as fast as possible.
Through marvellously designed and hilarious engineering ideas, Mushin shares his vision for super-high-tech urban rewilding, covering the science of climate change, futuristic materials and foods, bio reactors, soil, forest ecosystems, mechanical flight, solar thermal power and working out just how fast we could actually turn roads into jungles, absorb carbon and reverse climate change.
Developed over seven years, Ultrawild is an optimistic book about creative thinking, science, technology, engineering and maths (STEM) and the potential for massive change. Filled with laugh-out-loud design-ridiculousness, it aims to empower and excite a new generation of designers, scientists, engineers and ultra-wild thinkers.
'If this book does not fire your imagination, nothing will. Steve Mushin doesn't hold back when thinking about our green future; humanity needs all the ideas it can get to bring climate change under control, and this book is packed with them!' Professor James Renwick, climate scientist.
Reviews
Jacqueline
Ultrawild: An Audacious Plan to Rewild Every City on Earth is a graphic book-style nonfiction text. Filled with drawings and tiny writing, this is a book to study closely and pore over each page. It is presented as a series of ideas to combat climate change. While it is presented as a sort of fantasy, science is very much behind it all.  Steve Mushin, described as a maverick inventor, is problem-solving climate change with each idea. The ideas may look as if they are impossible, but Steve Mushin argues they are not.
This book is very much for a particular kind of reader who would be drawn in to the text boxes and seemingly crazy ideas and want to spend time working their way through each page. Some children may find this difficult to navigate as it has very crowded pages and as my ten year old said 'it seems a bit mad'. There is something appealing in the madness, however, and children will be suitably amazed by the wealth of ideas in this book.
80 pages / Reviewed by Jacqueline Harris, teacher
Suggested Reading Age 9+
Other titles