Uncomfortable Conversations with a Black Boy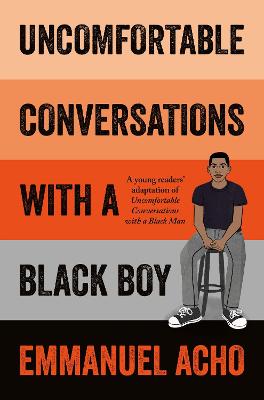 By Author / Illustrator
Emmanuel Acho
Genre
Representation & Inclusion
Age range(s)
14+
Publisher
Pan Macmillan
ISBN
9781529067736
Format
Paperback / softback
Published
13-05-2021
Synopsis
"What terms are acceptable now to refer to black people and why has that changed over time?"
"If the N word is such a bad word, why do my black friends use it all the time?"
"How has systemic racism gotten so out of hand and how did it start?"

In Uncomfortable Conversations with a Black Boy, former American football player Emmanuel Acho addresses the awkward questions white and other non-black people have been afraid to ask and don't know how to answer. Drawing from his own experiences, Emmanuel creates a safe space for curious young people and their parents to find answers to difficult questions about race and racism. This essential book will help support readers to dismantle racism and be the drivers of change in their own lives, schools and communities.
Reviews
Julie
Emmanual Acho is a Nigerian-American former NFL player whose series Uncomfortable Conversations with a Black Man was made in response to the death of George Floyd and the Black Lives Matter movement. During 2020 this movement created the largest mass protests in history. Subsequently his YouTube series went viral and from this he went on to write Uncomfortable Conversations with a Black Boy to address questions that younger readers had.
This is an important book that does set out to inform young people and their parents about how to start, and why we should have uncomfortable conversations about race. I like that Acho sets out to give his readers the vocabulary and the knowledge to have these important conversations. In the book he states that real change begins with thoughtful discussions over hard questions.
The contents of the book are well thought out with chapters that address specific issues. Acho is very honest and open as he discusses topics that include cultural appropriation, the use of the N word and systemic racism. He talks directly to the reader very eloquently that it is the responsibility of all of us to fight for equality and to recognise injustice. The book informs the reader about how we must understand and learn from America's historical past. From the treatment of the first people that were enslaved, through to the passing of Jim Crow Laws, the Civil Rights movement, right up to the present day, how these events have, over the years, been responsible for and have created racial issues and racial tensions.
Acho's message throughout the book is very clear about the importance of educating yourself. He emphasises how important it is for the reader to understand the history of civil unrest not only in the USA but also internationally. Whilst Acho does not claim to have all the answers, his message is that we should treat people with empathy and to be less judgemental. Overall, the book reflects that by having these uncomfortable conversations and by addressing issues around race, we can move forward positively and be hopeful to change the world together. I would recommend this book for readers aged 13+
320 pages / Ages 13+ / Reviewed by Julie Broadbent, School Librarian
Suggested Reading Age 14+
Other titles