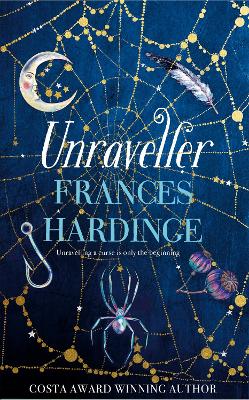 By Author / Illustrator
Frances Hardinge
Genre
Fantasy
Age range(s)
14+
Publisher
Pan Macmillan
ISBN
9781509836970
Format
Hardback
Published
01-09-2022
Synopsis
"This multilayered, humane and brilliant YA fantasy is the Costa-winning Hardinge's best yet." The Guardian.  "Gothic and twisty and witty and gripping . . . I loved it" Katherine Rundell.

Unraveller is a spell-binding fantasy from the Costa-award winning author of The Lie Tree, Frances Hardinge.  
In a world where anyone can cast a life-destroying curse, only one person has the power to unravel them.  Kellen does not fully understand his unique gift, but helps those who are cursed, like his friend Nettle who was trapped in the body of a bird for years. She is now Kellen's constant companion and his closest ally.  But the Unraveller carries a curse himself and, unless he and Nettle can remove it, Kellen is a danger to everything - and everyone - around him . . .

"This detailed, thoughtful, original read is not one to rush, but to savour." Sunday Times
Reviews
Eileen
"If you must travel to the country of Raddith, then be prepared…" This opening sentence of the Prologue to Unraveller serves as a timely warning to the unsuspecting reader, who can be little prepared for the extraordinarily inventive journey they are about to embark upon or the exceptionally imaginative lands they will journey through. Raddith is a strange and sinister place, a place where spider-like creatures cover the world with cobwebs and give the inhabitants of Raddith the power to cast life-destroying curses on those they hate. Hardinge is a stunningly original writer who never stops asking 'what if?' and in Unraveller, she cleverly subverts the curse trope.
Leading character Kellen is an unraveller, gifted with the ability to unravel curses and to bring those cursed back to human form. Imprisoned by an unhappy client, Kellen is rescued, and then employed, by a one-eyed horseman. Together with Nettle, who he freed from the heron form cursed on her by her evil stepmother, and aided by her brother in gull form, Kellen must cross the Wilds, attempting to uncover a shady organisation, seek out cursers who have gone missing, rescue those cursed and stop the cursing once and for all. En route, he discovers that he himself is cursed and his powers are changing. Can he and Nettle remove his curse before everything - and everyone - around him unravels?
Intricately-plotted and action-packed, this is an ingenious story which cleverly fuses mythology, mystery and magical intrigue into something strange and wonderful. The locations of Mizzleport, the misty Marshlands and the landscapes of the Wilds are vividly evoked, the victims of the curses gruesomely, sometimes shockingly, described. This is definitely not a book for the faint-hearted fantasy aficionado!
Kellen and Nettle are unlikely travelling companions but exceptional characters and, though flawed, complement each other well: Kellen, impulsive and strong-tempered; Nettle considered and loyal. Their journey is a real test of wits, friendship and courage. The characters the intrepid duo meet along the way are lightly drawn and the relentless action is exhausting, but these are minor quibbles in such a phenomenally compelling and immersive story.
Through her characters, Hardinge exposes the extremes of human behaviour, both good and bad; explores negative emotions such as hate and anger, spitefulness and jealousy; and shows how important it is to keep control of these emotions so as not to harm others. Even non-fantasy fans will find much to admire and enjoy; from the rich world-building to the exemplary wordsmithery and the witty, dark humour. This is a frequently very funny book!
Enthusiastic readers undaunted by the epic 500 page length are in for a real literary treat with Unraveller. It is a book to escape into and lose yourself in for hours at a stretch. English teachers will find countless ways to make use of Hardinge's superb writing style and sentence crafting in the classroom. Highly recommended, definitely unique.
496 pages / Reviewed by Eileen Armstrong, school librarian
Suggested Reading Age 14+
Other titles