Vera Jewel is Late for School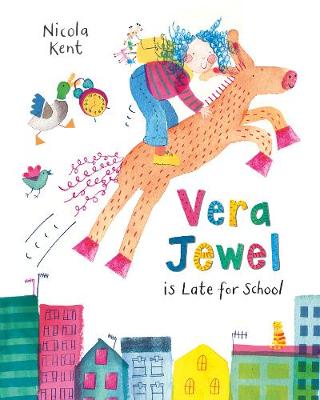 By Author / Illustrator
Nicola Kent
Genre
Adventure
Age range(s)
5+
Publisher
Pan Macmillan
ISBN
9781509852345
Format
Paperback / softback
Published
28-06-2018
Synopsis
When Vera Jewel's bike breaks one morning, she takes matters into her own hands and comes up with some ingenious - and very funny! - ways to get to school. From jumping on her space hopper to making her own catapult, Vera's ideas get more and more adventurous, but nothing seems to get her there on time. It's a good thing that she's one determined little girl who never gives up . . .

Vera Jewel is Late for School is a warm, funny and very original story about determination and creativity, perfect for learning about standing on your own two feet - and being rewarded for hard work and inventiveness!

Nicola Kent's catchy rhyming text, bright, jewel-like colours and eye-catching illustrations make this a truly stunning picture book.
Reviews
Nikki
Another adventure by the fantastic author/illustrator who brought us The Strongest Mum. This story is about a little girl who, no matter how hard she tries, struggles to get to school on time; Vera jewel is always late! However, she is very resilient in her efforts and finds other ingenious and funny ways to make it to school: on Tuesday she rides her space hopper but lands in a splash; on Wednesday, she builds a special travel tool to propel her to school but bounces straight back again; and on Thursday, her champion mule dashed a little too fast and crashes! What bad luck! We discover see that Vera Jewel is one determined little girl who is not quite ready to give up. What will she think of next? This is a charming story with the same bright, jewel-like colours used to create eye-catching illustrations alike those we see in The Strongest Mum. The images provide lots for children to explore and the little snippets of speech make each image more relatable for the children. This is a good book to read with children to discuss the meanings of new vocabulary as there were quite a few tricky words for younger children to digest such as 'forlorn', 'mule', 'transit' and 'plight'. I will be reading this book in assembly to the whole school as the start of the new term begins to enrich discussion about resilience going into a new year, and encourage determination and creativity. This could also be taken back into class for the children to design their own invention for getting into school on time, or look at maps of their journey to school in geography and plan out the best route to take, with careful consideration of transport which could be used. This picture book has some great double page spreads of maps of the town to use a stimulus for the children to create their own, or a story map. A delightfully funny, rhyming text that is sure to amuse young minds. Picture book / Ages 4+ / Reviewed by Nikki Stiles, teacher.
Suggested Reading Age 5+
Other titles