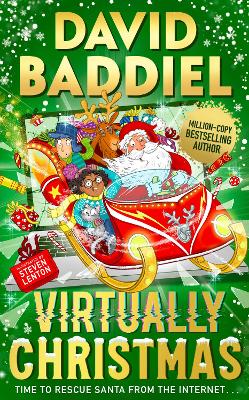 By Author / Illustrator
David Baddiel, Steven Lenton
Genre
Funny Stories
Age range(s)
7+
Publisher
HarperCollins Publishers
ISBN
9780008334307
Format
Hardback
Published
27-10-2022
Synopsis
The HILARIOUS new novel and the year's most perfect festive gift - from million-copy bestselling author David Baddiel
It used to be the most WONDERFUL time of the year, but for years Christmas has been taken over by Winterzone.  All the things that made Christmas special are gone: the human connection, the baubles passed down through generations, even the rubbish cracker jokes.  Instead, Christmas is run by robots, while 3D holograms of Santa Claus called Santavatars check if you've been naughty or nice - and on Christmas Eve, all of the presents are delivered by ZoneDrones instead of Santa's reindeer!  But when they stumble on a curious clue, 11-year-old Etta and her friend Monty find themselves thrown into a fight to bring back Christmas. Racing against time and against the might of Winterzone, they must find the real Santa - before the true meaning of the festive season is lost forever . . .
Reviews
Linda
Virtually Christmas is set sometime in the future with Christmas fast approaching. However, it's not like the Christmas that we know today. It has been renamed and is now called Winterzone, presents are delivered by drone, Santa is a hologram - and there are hundreds of these that pop up everywhere! - and finally, the children in this future time have never seen snow!
Etta hates Christmas like this; she longs for the Christmases that her grandma Jo has told her about, the ones with tinsel, shiny baubles, snow, Santa and presents under the tree. So when she gets the chance to be the Perfect Present Please (the new Christmas Eve), she takes it in the hope that they will grant her her perfect Christmas (sorry for repeating this word so many times!).  However, before this big event, Etta accidentally meets the delivery man who might change her mind about her request. Who does she think he is? What will she ask for?
In this funny, laugh out loud, book for Christmas, Etta and her friend Monty go on a crazy adventure to restore Christmas, not just for them but also for her little brother Jonas. The book has 251 pages, with short pacy chapters and wonderful illustrations that will keep any 7+ reader totally engaged. The story would also be great for parents/teachers to read aloud and book/intervention groups. A great Christmas read from this popular young children's author, David Baddiel, who knows his target audience really well. 
256 pages / Reviewed by Linda Brown, school librarian
Suggested Reading Age 7+
Other titles