Waiting for Callback: Take Two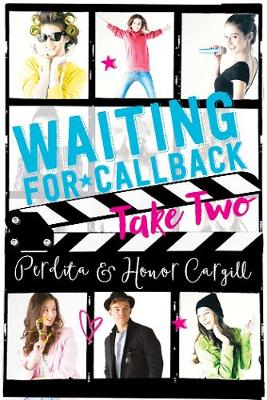 By Author / Illustrator
Perdita Cargill, Honor Cargill
Genre
Friends and family
Publisher
Simon & Schuster Ltd
ISBN
9781471144851
Format
Paperback / softback
Published
26-01-2017
Synopsis
'There's something in this book for every reader- bits to make you laugh, bits to make you cry and plenty of life-affirming, upbeat moments that make it the perfect tonic. More please!' Emma Carroll

Elektra has finally landed a part in a film. It's the dream. Well ... until she works out that Straker is a movie so dystopian that within weeks most of the cast and all of the crew wish that the world had actually ended (preferably in scene one). And while it's obviously great news that she's moved from the friend-zone with Archie to become his almost-girlfriend, it would be better if he hadn't immediately relocated to Transylvania to play a vampire hunter surrounded by 'maidens of peerless beauty'...

Full of humour and warmth, this new series is perfect for fans of Geek Girl and The It Girl.

'Waiting for Callback: Take Two fills you with so much love and laughter, it will brighten your day. It's completely catching in this book, there was so many laugh out loud, cringe worthy moment's your heart just beats that bit faster out of pure joy and happiness for this book.' Never Judge a Book by Its Cover
'A hilarious read with a fab main character. The excellent dialogue sets it above most of the other similar books in a crowded field (which includes lots of great reads!)' YA YEAH YEAH
Reviews
Georgie

- Age 12
Overall, the book was fantastic, giving me a realistic insight into Elektra's messed up life. I loved how much detail the authors put into the book, and the depth of which they thought of the characters. I would give the book 5 stars, due to the detail and fun style of the book.
Suggested Reading Age 11+
Nicola

- Age 13
The characters are very well developed and also unique, an awesome read for any family member, if they're not old, of course.
Suggested Reading Age 3+
Sammy

- Age 13
The story was clearly thought out well and I could tell the authors found pleasure in writing it. Overall this is an outstanding book.
Suggested Reading Age 3+
Janet
Elektra Jones, 15, lands a starring role in a film but it doesn't go to plan. This is a heart warming story about teen romance, family and friendship. It'll make you laugh, feel angst but ultimately leave you happy and glad that you read the book. I really enjoyed it. Elektra finally gets together with her crush, Archie, but they end up in different acting roles in different countries. Her movie script changes every day and she doesn't end up with the starring role that she thought she was getting to play. In Transylvania, on the other hand, Archie (her new boyfriend) is the star of the vampire TV series and she's reading in Bizz News that he is having a great time and has been linked to his lovely co-star. Elektra overreacts and breaks up with Archie only to find out that he hasn't done anything wrong and still wants to be with her. 368 pages / Ages 11+ / Reviewed by Janet McCarthy.
Suggested Reading Age 11+
Other titles