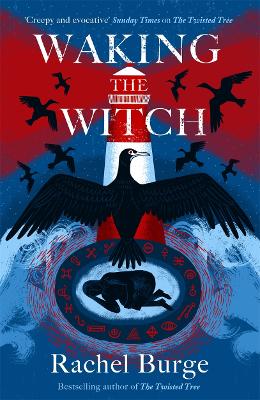 By Author / Illustrator
Rachel Burge
Genre
Fantasy
Age range(s)
14+
Publisher
Hot Key Books
ISBN
9781471411083
Format
Paperback / softback
Published
18-08-2022
Synopsis
'I tried to keep you safe, but I see now that I can't. They won't stop until they have you . . .'   When Ivy's search for her mother draws her to a remote Welsh isle, she uncovers a dark secret about her past.  An ancient and corrupt power is stalking Ivy, and her only chance of survival is to look deep within herself. For not every story in legend is true, and some evils are not what they seem ...
An unputdownable novel steeped in Welsh mythology and Arthurian legend, from the bestselling author of THE TWISTED TREE and THE CROOKED MASK
Find out more from author Rachel Burge
Reviews
Chomo
The cover of this book promises something frightening and the book delivers in spades. Opening in a butterfly centre, the action starts right from the off.
Ivy is a sympathetic heroine, with a sad background, who likes people and works hard. The writing style is fast paced and there is something happening all the time which makes it a real page turner. We gradually learn more about Ivy, her friend Tom, and eventually where the witches come into the tale. The latter part of the book delves into Ivy's mindset and draws out interesting interpretations of her behaviour which are both believable and explain why she has so much difficulty "waking the witch".
The narrative is vivid and engaging, making the story so easy to see in my mind's eye. My sympathy for Ivy grew at each turn and although the minor characters are only sketched in, in terms of character, Ivy, Tom and the witches had bags of personality and guts.
282 pages
Suggested Reading Age 14+
Lorraine
After growing up in foster homes, Ivy's search for her mother might finally be over. But just when she has a lead and a plan to find her, strange events start following Ivy and her friend Tom.  Will they be able to find Ivy's mother and what else might they find along the way?
Waking the Witch is an enjoyable read, steeped in myth and set on a ragged and desolate island. The setting adds to the isolation and separation that Ivy has felt all her life, from friends, her mother and emotionally from those around her.  There are hints of past events that have shaped her insular personality and made her afraid to share her emotions or confide in friends.
The story jumps very quickly into unusual and disturbing events and the author's narrative description makes it easy to imagine the scenes as if playing out in a film.   Although emotionally withdrawn, Ivy's character is strong, determined, and defiant in the face of sexist and bullying behaviour from her boss. Relying on her friend Tom, the story slowly unfolds to reveal the dark nature of the recent events.
I found this to be a book of two halves. The first remained in reality, albeit with strange attacks, a newfound mother and some unexplained behaviour. The second half opened a world of demons, dark power, witches and sisterhood and I feel this is when the book really came into its own. The beautiful descriptions of the sisters and their united emotional connections, along with Ivy's reactions, lifted the narrative and I craved more.
Ivy's attempts to become a cormorant should come with a warning due to the physical transformation scene and throughout there are certainly some shadows that may give people nightmares. The book is left open to a sequel with no real resolution which may irritate some. It would, however, be welcome with much more to explore of the love and kinship of the sisters and allow exploration and explanation of the dynamics of the siblings and their magic powers. Readers of fantasy and the macabre will love this book
282 Pages / Reviewed by Lorraine Ansell, school librarian
Suggested Reading Age 14+
Other titles