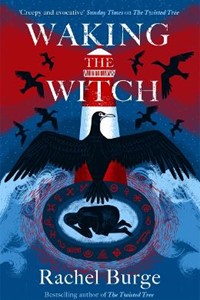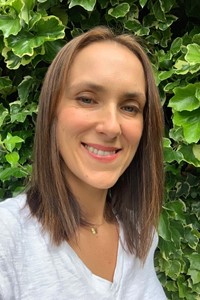 About Author
YA author Rachel Burge's new novel, Waking the Witch, follows her earlier YA books The Twisted Tree and The Crooked Mask.  As well as a novelist, Rachel works as a freelance feature writer and has written for a variety of websites, including BBC Worldwide, Cosmo, and MTV. She lives in East Sussex with her partner, son, and black Labrador Biff. She is fascinated by Norse myth and swears she once saw a ghost.
You can find Rachel on Twitter @RachelABurge, Facebook (RachelBurge) and Instagram (rachelburgewriter) and Pinterest (burge0709) Her website is rachelburge.co.uk
Interview
Waking the Witch  (Hot Key Books)
Look out for witches, Arthurian myths and otherworldly creatures in this strange and eerie book by Rachel Burge, set on an almost deserted, windswept island where Ivy goes to search for her missing mother. We asked Rachel to tell us more about what inspired the story, Merlin myths and feminism, and how she uses settings in her stories.
Download a Chapter from Waking the Witch
Q&A with Rachel Burge
1.   Can you tell us a little about yourself and what brought you into being an author?
I've always loved writing and have wanted to be an author since I was at a school. After studying English at university, I worked on a local magazine and then as an online editor and feature writer. As I was coming up to my 40th birthday, I remembered my childhood dream and started working on a novel in earnest. I was lucky to find a publisher for my first book, The Twisted Tree, which came out with Hot Key Books in 2019.

2.   What kinds of books do you enjoy writing?
I've been fascinated by ghosts and the supernatural for as long as I can remember. While I don't claim to have any abilities myself, I love meeting psychics, witches and shamans, and chatting to them about their experiences. I'm drawn to the strange and uncanny, and all my stories are set in the everyday world where something 'other worldly' occurs.

3.   What draws you to writing for teenagers?
Teenagers go through so much change and I find that interesting to write about. The characters in my stories invariably discover some truth about themselves that leads them to question who they are, and who they'd like to be in the future.

4.   Can you tell us about your new book, Waking the Witch?
The story is about a girl called Ivy who is searching for her mother after being abandoned as a baby. She tracks her down to a remote Welsh island, where she discovers a disturbing truth about her past and why her mum gave her up. The story draws on Welsh mythology and Arthurian legend and offers a fresh take on some well loved stories and characters. It's feminist, witchy, and very creepy!

5. Your main character, Ivy, struggles to acknowledge or talk about her true feelings. Why did you want to explore the importance of expressing how we feel through her story?
I think most writers draw upon aspects of themselves when creating their characters. I don't know how it feels to be abandoned as a baby, but I do know how it feels to carry a deeply held hurt from childhood. We're all programmed to be strong and expressing our pain (perhaps with the help of a therapist or healer) can be incredibly difficult, but also powerfully transformative. There's a part in the story where Ivy reaches a similar epiphany, and I found this scene very emotional to write. If you're crying your eyes out while typing, you know you've found the heart of your story!

6. Why did you decide to draw on the myth of Merlin as part of Ivy's experiences? 
To be honest, I didn't know much about Arthurian legend before I started work on the book. When coming up with story ideas, I nearly always begin with setting. I was looking up remote areas in the UK and came across Bardsey Island off the west coast of Wales. There were so many fascinating facts and folklore about the place, I knew there had to be a story I could set there. When I discovered it was said to be Avalon and Merlin's last resting place, I began to look more closely at Arthurian legends.
I was interested to see how Merlin changed so much over the course of his life. He started out as the offspring of a demon, he was King Arthur's most trusted advisor, and yet he ends his days in disgrace. In some stories, he loses his mind and becomes a wild man of the woods, in others he's trapped in a tower, tree, or a cave by a lady of Avalon. Some writers depict him as a lecherous old man who relentlessly tried to seduce a young woman, while others portray him as a victim who is tricked into falling for a woman who then uses his magic against him. I decided to come up with my own explanation for what happened to Merlin and to use it as the basis for my story.

7. You explore this mythology from the perspective of the women involved. Why did you want to revisit the Merlin myth from this perspective?
I like to look for gaps in the tales that have already been written, and then use my imagination to fill in the blanks. I came across an early story about nine priestesses who lived in the otherworld and were said to be great healers. After King Arthur stole their magic cauldron, the women reappear in later stories as nine black hags. I was curious how these women went from being revered as great healers to becoming wicked witches.
Morgan le Fay, the leader of the nine priestesses and Arthur's half-sister, undergoes a similar transformation. In the early stories, she is regarded as a force for good, but later takes on the role of evil schemer. This, combined with Merlin's fall from grace, inspired me to come up with a story that made sense of the characters' change in circumstance.

8. How did you develop the parallel worlds of magic and reality in Waking the Witch, and make these believable for the reader?
I began the story in the real world and gave Ivy everyday concerns to contend with, so that the reader would feel grounded before I introduced more supernatural elements. Hopefully, the reader is invested enough in the characters that they willingly go along for the ride when the plot takes a turn into fantasy! I gave Ivy a sexist boss to content with at the start, as I wanted to foreshadow the challenges she later faces in the story.
Setting also plays a big part. I like to choose settings that are slightly apart from the 'real' world, where you have the sense that something unexplained could happen. I spend a lot of time trying to create a strong sense of place and atmosphere, so that the reader feels they're in the story with the characters. This hopefully makes the story feel more believable.

9. You use a range of symbols through the story, including cormorants that become a powerful image of witchcraft and magic. What inspired you to use this image in the book?
I enjoy nature writing, and I had an idea that I wanted to include an element of this in the book. As I was researching the wildlife of Bardsey, I discovered there are many cormorants on the island. I read that the Irish call them the 'cailleach dhubh', which means 'blag hag'. It reminded me of the nine witches from Arthurian legend, and I instinctively knew they must be connected somehow. The name Morgan means "sea-born" and she and the nine priestesses were believed to have been water spirits originally. It made sense to me that the witches would be closely connected to the sea, as are cormorants.

10. Your settings are also important in developing the otherworldly feel of the book - can you tell us more about the lighthouse and island setting?
Bardsey Island is a real place, which you can visit in the summer months. In winter, the few inhabitants move to the mainland and take all of the farm animals with them. There is lighthouse which has a red light (they changed the optic from a white light to a red one as thousands of sea birds kept crashing into it). It's true that 20,000 saints are buried on the island and there really is only one man who does boat trips. I had great fun taking facts about the island and weaving them into the fictionalised story.

11. Other than a great story, what would you like young people to take from Waking the Witch?
As I was writing the book, I kept in mind that some readers would empathise with Ivy and find 'home' a difficult word as she does. The theme of found family is hugely important in the story, and I would love it if just one person felt a sense of hope from reading it. Even if you have a difficult childhood, you can still find a sense of family and belonging as an adult.

12. Where and when do you prefer to write? What are you writing currently?
I do most of my writing in the day, sat at my computer in my office (a tiny box room filled with plants and fairy lights). I like to listen to sound effects while I'm working. The first chapters of the book are set in a butterfly zoo, so I listened to the sound of a jungle while writing those. I also spent a lot of time listening to the cries of cormorants and the sound of the sea. For the scary scenes, I listened to Kate Bush's Waking the Witch.   I'm currently working on ideas for a new YA story.

13. Are there any other books for teenagers that you've read recently and could recommend to our readers?
I'm currently reading Her Dark Wings by Melinda Salisbury and Daughter of Darkness by Katharine and Elizabeth Corr (both based on Greek mythology) and really enjoying them.
Author's Titles