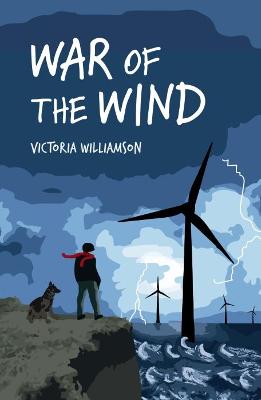 By Author / Illustrator
Victoria Williamson
Genre
Representation & Inclusion
Age range(s)
9+
Publisher
Neem Tree Press Limited
ISBN
9781911107507
Format
Paperback / softback
Published
23-09-2022
Synopsis
On a remote Scottish island, fourteen-year-old Max's life changes forever when he loses his hearing in a boating accident. Struggling to make sense of his new life and finding it hard to adapt in school, he begins to notice other - even stranger - changes taking place when a new wind farm appears off the island's coast. With the help of three school friends with additional support needs, Max discovers that a sinister scientist, Doctor Ashwood, is using wind turbines to experiment on the islanders. They must find a way to shut down the government's secret test before it spins out of control...
Reviews
Louisa
14-year-old Max lives on a remote Scottish island and is seething with anger and frustration. An accident on his father's trawler has left him deaf and isolated from his former friends. A new baby in the family only makes matters worse; he's convinced that his parents want to replace him with an undamaged child. When a new wind farm appears off the coast, Max is excited by the hope of connection. All the islanders will be offered free mobile phones, and, at last, access to the internet. For Max, the prospect of software that will turn speech to writing and make it easier for him to communicate with friends and family is a beguiling one.
Once the turbines are installed, though, there are mysterious delays to the installation of internet connection while unsettling changes in the behaviour of people and animals make life even more difficult. Soon Max discovers a sinister scientist who appears to be carrying out a live experiment on the islanders and the atmosphere turns downright threatening. Apparently only Max and three friends at school with additional support needs are able to resist Doctor Ashwood's creeping, creepy influence - but will they have the strength to neutralise the danger before life on the island is ruined forever?
War of the Wind read like a book of two parts. The first half explores the everyday emotional cruelties and unfairness faced by those who are deaf or different. Max is far from perfect, but looking at the world through Max's eyes, it's easy to understand his truculence and aggression. With the spotlight on the damaging impact of small, thoughtless jokes and actions, these chapters provide a gently persistent lesson in the importance of kindness and inclusivity - a lesson that Max is learning the painful way himself. In the second half, as Max is swept up in the desperate struggle to rescue his family and his community, the narrative gathers pace with all the usual ingredients of classic gripping adventure stories - unlikely alliances, cliffhangers, dangers and near misses. Once you reach this bit, like Max, you can't stop until you reach the end at a final Halloween showdown.
This warm-hearted and heart-warming story is ideal for readers in Upper Key Stage 2 and lower Key Stage 3 who enjoy a good adventure story. That the main characters all have additional needs is a clever twist on the usual formula: it's precisely their difference that offers the best hope of salvation for the island of Scragness.
250 pages / Reviewed by Louisa Farrow, teacher
Suggested Reading Age 9+
Other titles