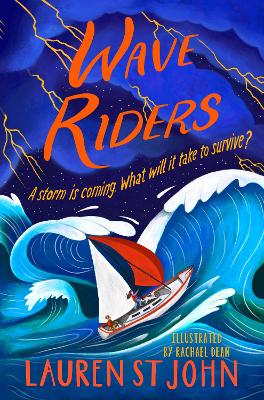 By Author / Illustrator
Lauren St John
Genre
Adventure
Age range(s)
9+
Publisher
Pan Macmillan
ISBN
9781509874248
Format
Paperback / softback
Published
10-06-2021
Synopsis
"A summer holiday in a book... unforgettably exciting." Piers Torday

"Lauren St John at her very best... a gripping adventure across stormy seas, stately homes and boarding schools, with a fabulous plotted mystery at its core. I couldn't put it down." Abi Elphinstone

A storm is coming. What will it take to survive? An exciting adventure set at sea, from the bestselling author of the Laura Marlin Mysteries and Kat Wolfe Investigates.

Twins Jess and Jude Carter live a dream life sailing from one exotic destination to the next with their guardian, Gabriel. But after Gabe vanishes and a storm smashes up their lives, they're left penniless and alone. When a wealthy, glamorous family offer them a home, everybody tells them they're the luckiest children in the world. But the Blakeneys' stately mansion is full of secrets - secrets that seem entangled with the twins' own fate. As they race to uncover the truth, Jess and Jude must confront their deepest fears.

How do you solve a mystery when that mystery is you?

Wave Riders from Lauren St John is an exciting and compelling middle-grade tale of sailing, family and identity.
Reviews
Donna
Jess and Jude, twins, are on the trip of a lifetime with their guardian, Gabe. Plucked from their school they set off on a year at sea, sailing from island to island. Neither of the twins thought to question their speedy departure from Florida that night until the day that Jess wakes up on the boat and Gabe is missing. Did it have something to do with the argument Gabe had on their stop over the day before? Or the coconut milk they drank?
Jess and Jude set out to uncover the mysterious disappearance of Gabe and the reasons for their spontaneous trip. Vowing to uncover the mysteries they set sail together, with their dog Sam, to discover some truths. Until a squall stops them in their tracks. As if by some miracle, they are taken under the wing of an affluent family and their prospects seem bright...for a while. But are the family all that they seem?
As the twins are torn apart, they must learn to survive and find the truth before all is lost. Lauren St John creates an adventure with twists and turns that will keep readers enthralled. Using her first-hand knowledge of sailing, she creates incredible descriptions of life at sea, as well as developing an intricate mystery for children to unpick and try to solve as they turn each page of Wave Riders. Curriculum links: family, bereavement, loss, love, friendship, resilience, perseverance and belief.
416 pages / Reviewed by Donna Burkert
Suggested Reading Age 9+
Other titles