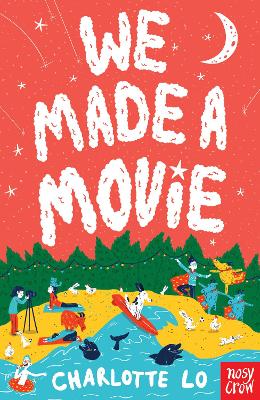 By Author / Illustrator
Charlotte Lo
Genre
Friends and family
Age range(s)
7+
Publisher
Nosy Crow Ltd
ISBN
9781788008037
Format
Paperback / softback
Published
03-06-2021
Synopsis
The funny, heart-warming sequel to the acclaimed We Won an Island. When Luna's family won an island, their dreams came true - Luna opened a donkey sanctuary, her sister flew a plane, and her brother won a sheep pageant. But Luna's new donkey has a mortal fear of beaches, her mum's goat-yoga business is on the rocks, and her brother is weirder than ever! Luna's got a brilliant plan to solve her family's problems - it's time to enter the movie-making business...A laugh-out-loud story of family, fun and sunny adventures from the author of We Won An Island, one of The Telegraph's best 50 books of 2019: "This book is definitely a bask in the sun." Telegraph
Reviews
Jo
Before you even dip into We Made a Movie, you will be dazzled by its eye-catching, vibrant cover, hinting at the fun and cheerfulness that lies within. We Made a Movie is Charlotte Lo's sequel to the fabulous We Won an Island but can easily be read as a standalone.
In this, the second tale following Luna and her quirky family, we return to the town of Wishnook in Scotland and to the remote island that Luna won in a competition. The plot follows the clashes within the local community as a property developer has designs to turn their peaceful Scottish town into 'The Las Vegas of Scotland'. Opinions within the town, and within Luna's family, are divided and soon tempers begin to fray.
Despite having serious issues at its heart, We Made a Movie is funny and a really enjoyable read. Luna's family are totally lovable in their eccentric way; Margot is an aviation fanatic, Dad whittles wood (which looks more like poo than anything else!); Mum is a yoga fanatic and Fabien is a vegan knitter with a flock of 16 dancing goats!
Nothing ever goes according to plan and disasters ensue as different factions of the neighbourhood try to make their voices heard. Luna is vehement that her home is untouched and she strives to halt the development by celebrating the unique qualities of Wishnook. Her sister, Margot, and her Dad, however, are in support of the proposed development and this is where the story really takes off. The theme of divided loyalties and the strength of family resonates through the book. Luna is at odds with Margot and, even though she puts on a brave face, the tension between the sisters causes Luna heartache. Luna is steadfast and brave. She is prepared to fight for what she believes in and refuses be intimidated by rich property developers.
This is a story about standing up for what you believe in and having the confidence and passion to make your voice heard. This is what is so endearing and enduring about Luna; she has unwavering principles and a big, big heart. Charlotte Lo has conjured up the most delightful, crazy community of oddballs and this is a fun-packed snapshot of life in their world. Who wouldn't want to live there?!
272 pages / Reviewed by Jo Clarke, teacher
Suggested Reading Age 7+
Other titles