What Does An Anteater Eat?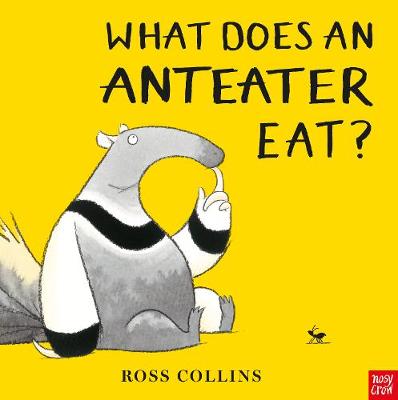 By Author / Illustrator
Ross Collins
Genre
Adventure
Age range(s)
3+
Publisher
Nosy Crow Ltd
ISBN
9781788002646
Format
Hardback
Published
07-06-2018
Synopsis
Anteater is hungry, but he has completely forgotten what anteaters eat. Baffled and with his tummy rumbling, he consults the other animals. But Sloth is too busy, Toucan is clueless, and Crocodile has his own mouth full. Maybe the ants will know - and maybe the answer isn't quite as obvious as you may think! A delightfully silly tale that little ones will return to again and again.
Reviews
Sian
A confused and hungry anteater has forgotten what it eats so off it goes searching for a likely source of food. Along the way he encounters various animals who he politely asks what he should be eating. The animals are either far too busy doing something else or they don't want to help the anteater, so he has to work this out; maybe the ants can help him find out...? I loved the full colour pages and illustrations. It's a humorous read for children and adults alike. The repetition allows children to quickly become part of the storytelling by joining in with similar phrases the anteater says. It takes little explanation, even for younger children, and is a great conversation starter. Children relish in the idea that an anteater asks ants what he eats and enjoy the options the other animals suggest to him along the way. My four year old nephew loves this book and enjoys looking at the pictures and retelling the parts that he remembers. I'd use this to create a similar story with my school children as it is a simple storyline and it would be easy to adapt using different characters or settings to think up a similar story when exploring fiction-writing. The politeness of the anteater 'Sorry to bother you' is sweet and could be used within a PSHE lesson with how to communicate with others and why it's important to ask politely etc. The different sentence types can be used as examples of questions and statements and there are many examples of direct speech which could be used and adapted when exploring how to use speech marks. From a teaching point of view I'd definitely consider using it within class and for enjoyment children would read it again and again, taking in the beautiful pictures and enjoying the funny story. Picture book / Ages 3+ / Reviewed by Sian Rankin, teacher.
Suggested Reading Age 3+
Other titles