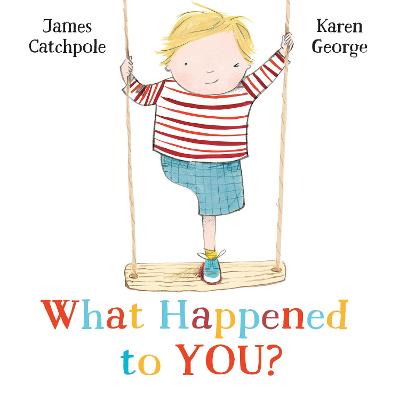 By Author / Illustrator
James Catchpole, Karen George
Genre
Representation & Inclusion
Age range(s)
3+
Publisher
Faber & Faber
ISBN
9780571358311
Format
Paperback / softback
Published
01-04-2021
Synopsis
The first ever picture book addressing how a disabled child might want to be spoken to. What happened to you? Was it a shark? A burglar? A lion? Did it fall off?  Every time Joe goes out the questions are the same ... what happened to his leg? But is this even a question Joe has to answer?  A ground-breaking, funny story that helps children understand what it might feel like to be seen as different.
Reviews
Lauren
What Happened to You? is the story of Joe, a little boy with only one leg, and his experiences with other children asking "What happened to you?". All Joe wants to do is play his favourite game, pirates and fight the sharks and crocodiles. However, children in the playground keep coming asking him questions about his leg. Once the questions and speculations have been made, Joe gets cross, fed up and just wants to play his game. The children come to realise that Joe is no different from them and his game is actually pretty cool and they all want to play together.
The book tackled the subject of difference in a funny and sensitive way, highlighting the curious and inquisitive nature of children but in a way that relates to them. It reminds them that not all children want to share their stories. The picture book text is simple and easy to follow and the illustrations by Karen George are perfect.
At the back of the book there is also a note for adults and children on how to address difference, written by the author James Catchpole, who, like Joe, has one leg. I can't wait to read this to my class as I have not seen a book like this before. Highly recommend.
29 Pages / Reviewed by Lauren Maidman, teacher
Suggested Reading Age 3+
Other titles