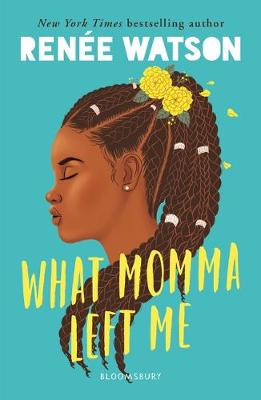 By Author / Illustrator
Renee Watson
Genre
Representation & Inclusion
Age range(s)
11+
Publisher
Bloomsbury Publishing PLC
ISBN
9781526600936
Format
Paperback / softback
Published
06-02-2020
Synopsis
From the New York Times bestselling author of Piecing Me Together, a 2018 Newbery Honor Book and a Coretta Scott King Author Award-winner.
Serenity knows she is good at keeping secrets, and she's got a whole lifetime's worth of them. Her mother is dead, her father is gone, and she and her brother have to start over again by moving in with their grandparents. At first, things seem like they could be good: a new friend, a new church, a new school. But when her brother seems to be going down the wrong path, the old fears set in. Will he end up like their dad? Will she end up like their mum?
In this exquisite coming of age story, Serenity discovers it is the power of love that keeps you sure of who you are, and who you will become.
Reviews
Tanja
Serenity rises / through adversity to break / free of secret griefs./

The reader journeys / through trials and tribulations / with Serenity,

Confiding her thoughts / to her journal lets her tell / her story in verse

Poetry ignites / the soul as Serenity / discovers herself.

Author, teacher and performer, Renee Watson is passionate about exploring identity and the power of verse in her emotive coming of age novels. Inspired by the work of writers Angelou, Brooks, Cisneros and Clifton, she ardently follows Rudine Sims Bishop's belief that 'children need both mirror and window books; books where they can see themselves in the pages, books that open up a new world to them.'

Watson's award-winning novels have a firm sense of place and perfectly capture an adolescent's struggle to cope with the pressures of family, friends and school while searching for who they want to be. Her writing is about surviving and growing from difficult experiences. In her article 'Black Like Me', Renee states, 'To be seen truly seen - truly seen - is to feel that all parts of who I am are recognized not as compartmentalized pieces of myself, but blended truths of my identity.'

This statement is true for her protagonist Serenity in What Momma Left Me. Set in Renee's birthplace of Portland, Oregon, it explores the nature of faith, ethnic identity and the damage abusive relationships can do. Cleverly constructed using chapter headings in the form of a significant prayer and multiple literary devices, including an acrostic which describes Serenity's rollercoaster emotions following traumatic family events, it is a skilful piece of writing.

Poignant, poetic and soulful, it is told in the first person and the reader is given extra insight into Serenity's innermost thoughts through her poetry journal. As she navigates personal conflicts, battles with her shaken beliefs, tries not to fall into temptation and worries that her brother is going down a dark path, Serenity's voice is full of sensory detail and longing.

For her, betrayal is 'faded black', smells like 'a burnt-out candle' and tastes like 'black, burnt toast'. At 13, she is becoming a woman and dealing with new yearnings. She describes the boy she likes as 'the sun that shines on a day when the weatherman forecasted rain.' Cake is a life metaphor - 'I sometimes forget all the painful things you've been through, / the beating, mixing and baking, / just so I can taste you.'

Compelled to keep dangerous secrets, Serenity discovers the poetry of Maya Angelou whose story helps her confront her tragic legacy and work towards a positive future. Her journey is about discovering what she really wants and who she has the strength to be. It is a celebration of talent and tenacity as she searches for her true moral compass.

What Momma Left Me is aimed at Upper Key Stage 3. It is a coming of age novel which showcases the creativity of poetry, teaches empathy and shines a spotlight on issues coloured American urban teens can face. Reminiscent of the environments depicted in Angie Thomas's The Hate U Give and Jason Reynolds' Long Way Down, it will appeal to teens who favour powerful, emotive reads where the protagonists face complex choices. Suitable for ages 13+, What Momma Left Me is also a good choice for an English class exploring how to use poetic devices to communicate emotions and the minutiae and messiness of life.

272 pages / Ages 13+ / Reviewed by Tanja Jennings, school librarian
Suggested Reading Age 14+
Other titles