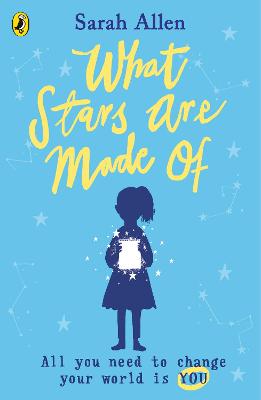 By Author / Illustrator
Sarah Allen
Genre
Representation & Inclusion
Age range(s)
9+
Publisher
Penguin Random House Children's UK
ISBN
9780241427965
Format
Paperback / softback
Published
02-04-2020
Synopsis
An astonishingly bold and moving middle-grade debut about family, friendship and how it's OK to be different.
Libby wants to be a scientist when she grows up, just like her hero, the underrated astronomer Cecilia Payne. She'd also do anything for her family - and when her beloved big sister Nonny is in trouble, Libby comes up with the perfect plan to help her, and at the same time remind the world what stars are made of.
Reviews
Janet
I don't suppose many people, adult or child, would know what Turner Syndrome is but this heart-warming story does give a very clear picture of how this disability affects Libby's life.
Libby is 12 years old, living in Colorado, and has a heroine, a little known American astronomer. When her pregnant sister Nonny comes home as her husband has to work away, Libby thinks she has found a way of helping their financial situation by trying to win a Smithsonian Institute prize of $25,000, aided by a new friend and her teacher.

What Stars Are Made Of is a very American story with a strong message that no matter how you get hurt, you must carry on. Libby is a plucky and engaging heroine, and the story sends out the message that having any kind of disability should never stop you. It also shows quite clearly what a loving and supportive family does for a child like Libby, or indeed for any child. Told through short sharp chapters, Libby's idea grows and the reader really feels for her when she gets short shrift from someone who discards her idea in the wastepaper basket.

Libby is a lovely girl to know and, as the reader is drawn into her plan, her life with its difficulties at school, and most of all her close relationship with Nonny and Nonny's husband, Thomas, she becomes a friend. Girls from 10-12 will enjoy making her acquaintance!

288 pages / Reviewed by Janet Fisher, librarian
Suggested Reading Age 9+
Other titles