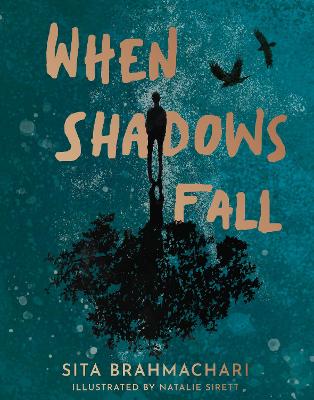 By Author / Illustrator
Sita Brahmachari, Natalie Sirett
Genre
Mental Health & Wellbeing
Age range(s)
14+
Publisher
Little Tiger Press Group
ISBN
9781788953160
Format
Hardback
Published
11-11-2021
Synopsis
Kai, Orla and Zak grew up together, their days spent on the patch of wilderness in between their homes, a small green space in a sprawling grey city. Music, laughter and friendship bind them together and they have big plans for their future - until Kai's family suffers a huge loss.
Trying to cope with his own grief, as well as watching it tear his family apart, Kai is drawn into a new and more dangerous crowd, until his dreams for the future are a distant memory. Excluded from school and retreating from his loved ones, it seems as though his path is set, his story foretold. Orla, Zak and new classmate Om are determined to help him find his way back. But are they too late?
A heart-breaking and poignant novel from award-winning author Sita Brahmachari, for fans of The Black Flamingo and The Stars Were Burning Brightly.
Q&A and Reading by author Sita Brahmachari
Reviews
Stephen
When Shadows Fall by Sita Brahmachari follows Kai who grows up in a city flat opposite a patch of wilderness called the Greenlands, which Kai and his dad have taken to looking after. It's here that Kai and his friends Orla and Zak often play and grow up together. Though there are stresses at home, which Kai notices especially with is dad, when his parents have another child everything seems perfect - till tragedy strikes the family.  Kai's life gradually starts to spiral out of control, as he watches his family fall apart and struggles to deal with his own grief. As Kai falls further into despair, his friends may be the only ones who can help him but can they do this before Kai finally hits his self destruct button?
When Shadows Fall is a powerful and moving story carefully crafted by Sita Brahmachari, examining the impact of loss on a family both collectively and from a teenager's point of view, mental health and friendship. It's full of emotion - happiness, sadness, despair, so be prepared for an emotional rollercoaster of a read. I really felt such empathy for Kai and his family grieving for a lost child, and also his friends, especially the helplessness they felt at times towards the Kai's situation.
Kai's relationship with his friends Zak, Orla and Om is also beautifully captured by Brachmachari. From first friendships and growing up together as childhood friends, to showing the stresses that teenage friendships have and the help you want to give each other.
This was very readable and relatable to. Om (Omid) brought in anther contemporary theme to the story of refugees, and the connection the author made between the loss of Kai and Oms loss of his brother was very thought provoking. Om is the character I admired the most due to his determination to help Kai because he had experienced loss and didn't want to lose a good friend. His situation also reminded that often we don't really know what has gone on in people's lives and that judgements are better left for courts.
I enjoyed the variety styles of text used in the novel including verse and different parts of the story told by different characters, including the ravens. This mix reflects the that the story is Kai's recollection and reflection on what has happened to him. I must mention the illustrations by Natalie Sirett that appear in novel. They enhance and form a key part in the story and for me they became pause for thought moments. They really add an extra dimension to the experience of reading this novel.
This is a thought provoking and at times challenging read and one I would suggest for high school aged children, and it's worth highlighting the triggers of mental health and sibling death. But is is also a novel of friendship and hope and a story that will remain with you long after you have finished reading it.
384 pages / Reviewed by Stephen Leitch, school librarian
Suggested Reading Age 14+
Other titles