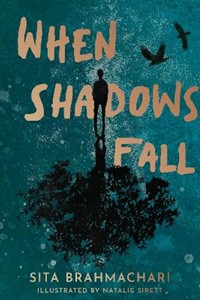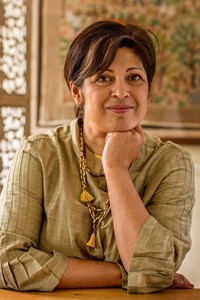 About Author
Sita Brahmachari's powerful new book, When Shadows Fall, weaves together themes of mental health, friendship and the environment. It is a book that she says has been "many years in the making".
Sita was born in Derby, to an Indian doctor from Kolkata and an English nurse from the Lake District. She has a BA in English Literature and an MA in Arts Education. Her many projects and writing commissions have been produced in theatres, universities, schools and community groups throughout Britain and America.
As an author, Sita has been nominated for the CILIP Carnegie Medal five times, won the Waterstones Children's Book Prize in 2011 and has been bestowed with an IBBY Honour. An ambassador for Amnesty, Sita is passionate about safeguarding human rights and diverse voices being heard, which comes through in her thoughtful and sensitive storytelling. She is based in North London.
Interview
When Shadows Fall (Little Tiger)
November 2021
Read a chapter extract from When Shadows Fall
Sita Brahmachari's powerful new book, When Shadows Fall (Little Tiger Press), weaves together themes of mental health, family and friendship, and how families' access to the environment can support their mental health.  
When Shadows Fall follows a family that experiences a tragedy, and explores how the circumstances affect the teenaged son, Kai.  We asked Sita to tell us more about the inspiration behind the novel and the themes it explores.
Q&A with Sita Brahmachari
1. Can you tell us a little about When Shadows Fall? Was it a difficult novel to write?
When Shadows Fall has been in the making for many years. My family remember me talking about it when I returned from a walk across our local Recreation ground 20 years ago when we first moved into the area. It was a wasteland and not a safe place. I saw a group of young teenagers huddled in a coppice of woodland, bikes blocking the path as they smoked, looking dishevelled and dejected. The questions came…How? Why? Where was there for these young people to go? Many years before I had worked in an Excluded Young Person's unit in Ladbroke Grove as a community theatre worker. I wondered where those sorts of engagement projects had gone that could help young people find a place of belonging.
Those were the questions that began my journey of writing When Shadows Fall.  As the years rolled on and I became a published author with my first novel Artichoke Hearts, I kept returning to the story. While I was drafting the wasteland began to be transformed through the vision of Robby Sukhdeo, his family and community into a beautiful community heart. Perhaps this book was waiting for the transformation to be complete. It is now The Oliver Tambo Recreation Ground. A bust of Tambo's statue oversees the park and a walkway representing 'The Long Walk to Freedom' against Apartheid. Tambo, like young Omid was a refugee who was given welcome in Haringey.
The teenage years are often turbulent ones and it seems fitting to me that this story about holding some of the most vulnerable young people in community, friendship and hope … has waited for this time of great fissures in equality and potential to be told. It has also taken the longest for me to write and caused me the most angst!

2. The novel focuses on a family under enormous emotional strain. What inspired you to write about this and to focus on a father / son relationship?
All families face strain, grief or trauma of one kind or another during a lifetime. When people are lucky enough to have support systems around them they can get through. Working with refugee people I see time and again that even those who have lost their family members, as Omid has, can start to forge new connections in community if well supported. What seems vital is that for those who do not have those safety nets there are societal structures to rely on. In this story and in this time in history those safety nets are fragile and in some cases unavailable.
Sometimes traumas are remembered like the trauma of Kai's father Dex, who still lives with the racism he experienced in school and in the Care system. I wanted to explore how trauma can pass on through generations too… and the mistrust conveyed to Kai of the education system is part of the story.
I loved writing the early years of bonding between father and son. I have written before of the close bond of fathering of teenagers (Kite Spirit, Zebra Crossing Soul Song, Where The River Runs Gold, Car Wash Wish and Tender Earth). Although Dex struggles, he is a character who gives Kai great resilience and the artistic tools of survival. What Kai becomes will make a difference for young men. Role models in education are vital.

3. Mental health is a key theme, and you explore how Kai and his father struggle to communicate through their difficult emotional landscape - the shadows in the novel. Why did you feel it was important to write about how men and boys can struggle to talk about what they are feeling?
I have written about the tragedy of teen suicide in Kite Spirit, where 16-year-old Dawn only reaches her dawn. This story explored the tragedy that Dawn never spoke or reached out to anyone and now her friend Kite must find sustaining ways to live with this loss. While I wrote this I became aware of the statistic that the largest cause of death in young men aged between teenage years and twenty five is death by suicide.
It was important to explore how the young Kai recognises the vulnerability of his father and is empathetic to it. There is a moment in the story when the family shuts down, closing the outside world off and the building echoes with discordant music. I felt that this was a metaphor for the need to speak and find a way to express yourself in the world.

4. How much research did you need to do into mental health issues to 'get inside' Kai's head and explore how he feels?
I have worked with young people in community and schools since I was 25 years old. There are many moments of experience and outpourings of empathy that I bring to the character of Kai, Omid and Orla. Kai carries with him many stories and many instances where I have seen young people seemingly in a place of no-going-back, turn things around and learn to fly again.
60% of all excluded children are Black or mixed race, and that is probably a modest estimate. Of those young people many continue to be over-represented in Mental Health and criminal justice systems. In contrast they are under-represented in every other aspect of life including in education.

5. The ravens that accompany Kai are a metaphorical and real presence in the story, how did Rain and Bow develop as part of Kai's story?
The ravens live on the actual piece of land that inspired the story. I've observed them closely over many years (and they've observed me!) and they quite naturally began to be woven into the story. Ted Hughes' 'Crow', The Legend of Odin and of course the story of the Ravens in The Tower of London all began to mesh together. Rain and Bow are a positive force for change and good in the story… their wings are iridescent.

6. We also learn more about Kai from his friends with parts of the novel written from their perspective and voice. Why was it important to have those voices as part of Kai's story?
No one person ever tells a whole story. When we look back on childhood, even as siblings, we don't remember the same things about any given experience. At a certain point in the story Kai splits and become two aspects of the ravens Rain and Bow and he cannot continue to tell his own story. When we meet him at the beginning he is reading over his own almost completed story. He simply could not have done this without his friends.
There is a powerful message in this story never to struggle on in silence… Kai has incredible childhood bonds in Orla, Zak and Omid… those who are lucky enough to have kept those bonds through their lives know how valuable these relationships can be. Omid says 'When Shadows Fall you stand beside'. Kai's friends do stand beside and do more than that… they help him fill in the blank spaces in art and writing.

7. One of Kai's friends, Om, is an artist and the images he creates are shared in the story. Can you tell us how the images help support Kai's story and why you wanted them in the novel? How did you feel when you saw the final pages?
The manuscript of the novel looked more like a theatre script written in three acts; monologues weaving in and out along with stage directions. The directions were really notes to Natalie Sirett, the incredible illustrator I've been talking to about this story to for at least a decade, and to Charlie Moyler, the wonderful designer. Together we have created a collage of prose, poetry and illustration to reflect the characters' need.
In the third act, the images come more frequently. Omid, a refugee survivor from Aleppo arrives in Greenlands with his aunt when he's in year 8. Although he has little English at this point, he soon finds a place of safety and reflection in the art room at school. He recognises trauma in Kai and he expresses what he sees and feels in his work.

8. The journey Kai and his family take is rooted in their home and the nearby woods and green spaces. Why did you decide to make nature, like the artwork, so integral to this story?
Nature is a cure. Nature is a space for all of us to feel part of a wider universe. City woodland and heathland have been my havens while living in London. I have written odes to urban woodlands before. 'Red Leaves' was set in Queen's Wood where I walk every day with Billy our family dog. The land contains the young people's memories and histories and is the sustaining force for the young people in this book.
During the first lockdown we all saw how nature flourished in cities. In the 30 or so years I've lived in London, it has been rare to be woken by such a loud chorus of bird song. Kai, Orla and Omid live in lack in many ways but they have one great asset and that is their Greenland's Rec. The land is the rooting character in the story… as it is for all of us. It is a tragedy for Omid that his beloved city of Aleppo is destroyed, but through his art and friendships he begins to lay down new roots. These precious urban landscape and community space need to be fiercely protected.

9. When Shadows Fall also describes opportunities that are missed to support Kai. Do you feel this is something schools especially struggle with; that young people are falling between the cracks?
This story reveals the fragility of a whole host of services. Increased investment into mental health support in schools has come so late in the day. With the COVID pandemic the inequalities that were already present have become even greater. Ironically, all young people have now had an experience of what it is like to be outside of the school gates. However the impact on the most vulnerable young people has been devastating. The word 'catch up' is no longer used... the story asks if we need to find new ways and new approaches to help young people explore inner worlds.
In my experience there have always been Faith's in schools (Grace in Worry Angels, Miss Afia in Tender Earth…); those teachers or members of staff who, whatever their subject, look out for the wellbeing of children. Schools and teachers have held an unrealistic burden of welfare and this story reveals the need for a much more joined up approach.

10. What would you like your readers to take from the story?
I would love them to remember these characters and their deep friendships, the way they love and support each other.
I would like any young person that is worried about any of the concerns the characters face in the book, to seek and find the help and support they need and deserve.
I would like everyone to protect and nurture green spaces.
I would like to see a greater focus on discovering the power of our creative beings and the impact creativity can have in the wellbeing of community.


11. Where and when do you prefer to write? What are you writing currently?
I tend to go for a walk or jog in the woods and then return to my desk. Sometimes I'm there for a few hours. Sometimes I put my head up and the day has flown by. I can think oh! I'm thirsty! Then I realise it's late afternoon! I do tend to immerse myself in writing. During lockdown I wrote a lot and published a lot too, and I now feel drawn to more collaborative work.
One of the projects I was involved in was an animation 'Footsteps on The Wind' that Onjali Q Rauf and I contributed storytelling to. To begin with I worked with a group of unaccompanied refugee children and asked them … if they could tell people of their journeys what would they say or draw? They then placed these stories and images on their footprints that became integral to the telling of the story.
At the beginning of the summer, Jane Ray and I published Swallow's Kiss, one of the 10 stories to make a difference by POP UP. It has already generated a story trail in Islington and I'm proud to say was chosen by the South Bank as Little Amal Welcome Wishes story.
This event brought together the things I love; storytelling, community, collaboration, friendship and accessible arts projects. I now have a feeling of wanting to take the stories I've written back into community. Artichoke Hearts is in the process of being developed for theatre and I would like to explore how some of the stories I've written could reach into communities through different mediums. After the time we've lived through, I think the value of communal arts experience for wellbeing is all the more needed.

12. Do you ever get stuck within a story, and what do you do to get through it?
There is always a point in a project where I get doubt gremlins! Over the years I have thought that this was a book that would never find its way! Those doubts tend to creep in when I'm not writing. The curious thing about this story is the characters just kept calling me back and every time I worked on it, there was a deep need for each of the characters to speak that wouldn't let me walk away. It always felt potent and the writing was always a process of distilling. The Characters really drove how I told the story and what form it would take. There was a moment when the gremlins took over but I have had an amazing team collaborating with me who have always been so passionate about it from the start.

13. What are your favourite escapes from your desk?
Walking in our local woods with family, friends and our gorgeous dog Billie. Swimming in the sea, a mountain tarn or river! Getting involved in community events whether that be in welcoming Little Amal or a local street party.
Author's Titles