When the Stars Come Out: Exploring the Magic and Mysteries of the Night-Time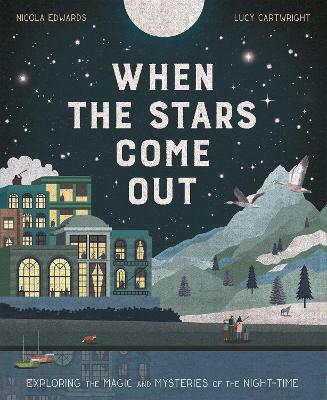 By Author / Illustrator
Nicola Edwards, Lucy Cartwright
Genre
Environment
Age range(s)
7+
Publisher
Little Tiger Press Group
ISBN
9781838915124
Format
Paperback / softback
Published
12-10-2023
Synopsis
As we delve into the magical realm that is our universe at night we discover what makes it so extraordinary...from moonbows to shooting stars and from the polar night to the northern lights. Experience how different habitats, from the city to the ocean, come alive when the sun sets. Meet animals that make their own elaborate beds and others that sleep while swimming or flying. Explore the history of human sleep across the globe and dive into a world of dreams...
Reviews
Jemma
When The Stars Come Out is a glorious non-fiction book which immediately captured our attention. Since I was young, I have always been fascinated by the night sky and now my seven-year-old daughter is as captivated by the wonders of the universe as I am.
In When the Stars Come Out, we discovered awe-inspiring facts about moonbows and the northern lights, about shooting stars and the phases of the moon. We also loved how this book explores what is it like in ecosystems on Earth after the sun goes down; from animals in the oceans who can sleep while swimming, to forest animals who make their own little beds to snooze in.
This book has 3 main sections: 1. The Sky At Night, which includes spreads about constellations, the moon and how the Earth moves around the sun. 2. The Earth At Night, with information about the savanna, oceans, woodlands and rainforest and their animals. 3. Humans at Night which explores being affraid of the dark, dreams and human sleep as well as parts of the world with extreme day and night.
My daughter's favourite section was Humans at Night, in particular the two-page spread on Dreams and Night Visitors because (in her words) "It's nice to know that Baku, the Japanese spirit animal, will come and take my nightmares away".
The beautiful illustrations bring a sense of magic; stunning art work depicts constellations, nocturnal animals and the life of a star, to name just a few of the fascinating topics found in this book. We feel When The Stars Come Out is suitable for a wide range of ages, from seven-year-olds to teens!
It would be a brilliant book to have in class libraries and would link to topics about space, habitats and animals, as well as topics linked to the human body as sleep cycles are discussed as well. This book really packs in so much information!   Even as an adult, I learnt so much and truly enjoyed reading about the magical world of night time.
64 pages / Reviewed by Jemma Jeffrey, teacher
Suggested Reading Age 7+
Other titles