When We Got Lost in Dreamland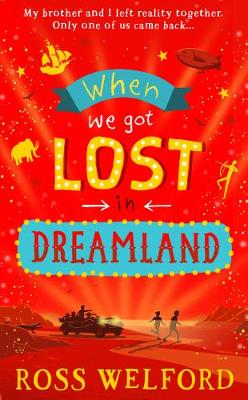 By Author / Illustrator
Ross Welford
Genre
Science Fiction
Age range(s)
9+
Publisher
HarperCollins Publishers
ISBN
9780008447182
Format
Hardback
Published
21-01-2021
Synopsis
When eleven-year-old Malky and his younger brother Seb become the owners of a "Dreaminator", they are thrust into worlds beyond their wildest imagination.

From tree-top flights and Spanish galleons, to thrilling battles and sporting greatness - it seems like nothing is out of reach when you can share a dream with someone else.

But... impossible dreams come with incredible risks, and when Seb won't wake up and is taken to hospital in a coma, Malky is forced to leave reality behind and undertake a final, terrifying journey to the stone-age to wake his brother...
Reviews
Susan
Malky has been making some bad choices recently, which is why he finds himself being dared to commit a robbery. He finds he has snatched two 'Dreaminators', strange devices which make dreams come true. At first, Malky and his little brother, Seb, enjoy their dream adventures which, having a Dreaminator each, they are able to share, but soon things spiral out of control. When Seb ends up in a coma, Malky has to face his fears and save his brother.
When We Got Lost In Dreamland is an intriguing, absorbing read. Malky is struggling with his parents' divorce and his behaviour and relationships have suffered as a result. He is often in trouble and easily caves to peer pressure as his lack of friendships make him vulnerable, but he has a good heart and ultimately finds his way again. Extremely well crafted, the story moves forwards and back in time and between dream and reality as the events unfold. Threaded through the whole are some very difficult topics, explored in both dream and reality, and it is facing some of these that ultimately helps Malky conquer his dreams and rescue Seb. That said, there are also some very funny moments in the story, particularly in the boys' dreams and Mola is an amazing character, adding both humour and wisdom.
Offering much to reflect on, When We Got Lost in Dreamland is an exciting, compelling read.
416 pages / Ages 10+ / Reviewed by Susan Wilsher, teacher
Suggested Reading Age 9+
Jo
Most children wish that their dreams could come true and that real life could be as exhilarating as the world that exists when we close our eyes. In When We Got Lost In Dreamland, when Malky comes across a device that enables him to take control of his dreams and to meet up on night time adventures with younger brother, Seb, he thinks that he has struck lucky.
With the help of a weird invention called a Dreaminator, Seb and Malky embark on a series of exciting adventures where their favourite book characters, the subjects of previous nightmares and figures from history appear in surreal contexts. The two brothers can't wait to slip off each night to their secret world of dreams until one night, Seb can't make the journey back from dreamland to reality and is trapped, unable to escape. With his little brother in a coma, Malky knows that no one will believe him when he explains that Seb is imprisoned in a dream. Malky, after all, has a bit of a reputation for being in trouble. Only one person can help: the inventor of the Dreaminator and Malky must find him in order to save Seb's life.
Malky has an ally in his quest to rescue his little brother. We are introduced to Susan, a new girl in school who calmly accepts Malky for who and what he is and who remains his constant companion through a string of sometimes funny, sometimes tense and sometimes quite sad escapades. Susan's quite formidable grandma is a believer in the powers of dreams and knowingly tells Malky that inside of our heads is bigger than outside. When Malky understands the significance of this, we know that he has come a long way and we can believe that there is hope for him.
I really enjoyed this book (I will be honest, Chapter 1 confused me and I thought I wasn't going to enjoy it). It was the perfect blend of imagination and reality. I liked how Malky was a boy who made mistakes, who acted before he thought and who got into scrapes. Deep down, Malky is loving and sensitive; he's also confused and a bit angry. His Dad has left, 'Fit Billy' seems to be spending a lot of time with Mum and teachers seem to think the worst of him.
Welford does a great job of portraying a boy that children will relate to; he isn't perfect, he is just a kid. There are poignant moments which are sensitively dealt with. Characters die, parents argue, children fall out and Malky is worries, so worried about his annoying little brother and what might happen to him. There's also an abundance of humour. In the land of dreams all manner of characters and events can happen and sometimes the lines are blurred and it's impossible to tell the difference between the land of dreams and the land of reality. When Malky mixes the two up, your cheeks will redden in empathetic embarrassment for him.
This is vividly imaginative and comfortingly funny. It is gently touching and warmly hopeful. The adventure is a delight to be a part of and Malky will stay in the reader's mind for a long time after the book has finished. His love for his brother, his desire to do the right thing no matter how he might be perceived by others makes Malky a real hero. Welford has written something very different and very entertaining; a dream of a read!
416 pages / Reviewed by Jo Clarke, teacher 
Suggested Reading Age 9+
Ishaq

- Age 11
The book had loads of really good cliff hangers and when I read the synopsis, I wanted to know more. I would really recommend this book as it taught me lots of vocabulary and was an excellent read. I would read this again and rate it a 5/5 as it was so good. 
Suggested Reading Age 9+
Rory

- Age 11
When We Got Lost in Dreamland is about a boy who can control his dreams.  Malcolm and his little brother find a way to share dreams and control them. But things go very wrong. It has adventure around every corner.
It is really exciting and there is a plot twist at the end. I really liked the imagination and the style of writing with flashbacks. There is nothing I disliked about this book, apart from it gets a bit sad. I would recommend it to anyone who likes adventure, fantasy and a little bit of magic.
Suggested Reading Age 11+
Other titles