Where the River Runs Gold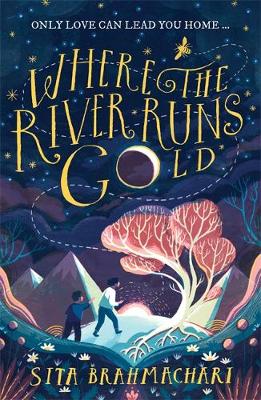 By Author / Illustrator
Sita Brahmachari
Genre
Adventure
Age range(s)
9+
Publisher
Hachette Children's Group
ISBN
9781510105416
Format
Paperback / softback
Published
01-07-2019
Synopsis
Two children must risk everything to escape their fate and find the impossible . . . bold adventure, timely climate change themes and breathtaking writing, from award-winning author Sita Brahmachari.

'Lavishly written and full of love of the natural world.' - Sunday Times

Shifa and her brother, Themba, live in Kairos City with their father, Nabil. The few live in luxury, whilst the millions like them crowd together in compounds, surviving on meagre rations and governed by Freedom Fields - the organisation that looks after you, as long as you opt in.

The bees have long disappeared; instead children must labour on farms, pollinating crops by hand so that the nation can eat. The farm Shifa and Themba are sent to is hard and cruel. Themba won't survive there and Shifa comes up with a plan to break them out. But they have no idea where they are - their only guide is a map drawn from the ramblings of a stranger.

The journey ahead is fraught with danger, but Shifa is strong and knows to listen to her instincts - to let love guide them home. The freedom of a nation depends on it . . .
Reviews
Rhiannon
Hurricane Chronos has destroyed the Kairos lands, bees are extinct and children are recruited by the Freedom Fields Family to pollinate crops so that the nation does not starve. However, in an unequal society where the Paragons live a life of luxury while the rest of the population struggle to survive, the situation is much more complex than it appears. As 11-year-old Shifa and her twin brother Themba are sent into the heart of their homeland, secrets and mysteries become harsh realities and they must risk a dangerous escape to get home, to safety and truth.

Where the River Runs Gold is an interesting combination of magical realism and dystopia, bringing in themes of extinction, climate change and autism. The use of descriptive language is exceptional, however, often meaning is lost in the poetry and symbolism, making the novel an incredibly challenging read. The story is paced very slowly through the book until the final chapters which seem rushed and a bit forced, and unfortunately the book almost needed a glossary of terms for all of the unfamiliar language which, for the reader, made the story difficult to understand.

Aimed at children aged 9+, Where the River Runs Gold would be useful in a classroom context as an example of wonderful descriptive language or perhaps extracts could be used for class discussion, but as a narrative, it sadly falls a little flat.

340 pages / Reviewed by Rhiannon Cook, school librarian.
Suggested Reading Age 9+
Other titles