Where The World Turns Wild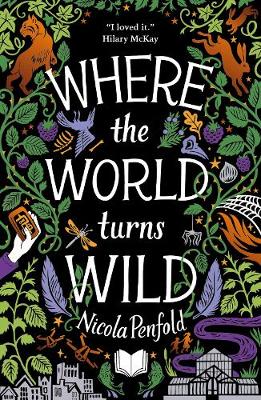 By Author / Illustrator
Nicola Penfold
Genre
Dystopian
Age range(s)
9+
Publisher
Little Tiger Press Group
ISBN
9781788951524
Format
Paperback / softback
Published
06-02-2020
Synopsis
Juniper Greene lives in a walled city from which nature has been banished, following the outbreak of a deadly man-made disease many years earlier. While most people seem content to live in such a cage, she and her little brother Bear have always known about their resistance to the disease, and dream of escaping into the wild. To the one place humans have survived outside of cities. To where their mother is.  
When scientists discover that the siblings provide the key to fighting the disease, the pair must flee for their lives. As they journey into the unknown, they soon learn that there's cruelty in nature as well as beauty. Will they ever find the home they're searching for?
A thrilling and thought-provoking ecological adventure from a fresh new voice in children's fiction. Perfect for fans of THE EXPLORER, THE LAST WILD and THE ISLAND AT THE END OF EVERYTHING.
"Some books are excellent story-telling, and some books broaden your knowledge and mind, and some just ought to be written and this book is all three. I loved it." - Hilary McKay, author of The Skylarks War.  "Where the World Turns Wild is a journey between extremes of grey and green, propelled by a bold and timely concept, and written with sharp, intelligent prose. A truly heartfelt and very striking novel." - Darren Simpson, author of Scavengers.
Reviews
Jenny
Where the World Turns Wild is an absolutely stunning, highly emotive and gripping dystopian adventure story. It takes place in the near future, years after the climate change activists, the Re Wilders, have released a man made virus (spread by ticks) that kills off a huge portion of the human race and so returns much of the planet to the 'Wild' - to the forces and progress of nature itself.

The remaining human civilisation must exist locked away in bleak, grey, artificial surroundings and cities where plants, animals and other natural objects are banned, feared and rejected. So disconnected are these human habitats now that the cities have armed guard 'Buffer Zones' (like a 'No Mans Land') between them and the wider world and the Wild. Knowledge about the Wild is seen as dangerous and rebellious - even books on the topic are banned.

In one of these cities live 13-year-old Juniper and her brother, 6-year-old Bear. Originally both were born in the Wild, and crucially have immunity from the disease, but now the government's scientists are (literally) after their blood. They must embark on a dangerous, urgent escape back to the Wild to try to track down their parents and prevent the government's plans to re-take the Wild.

This is a thrilling, highly relevant and astonishing adventure story. It is a journey of Juniper and Bear's hope and longing for their mother and of their fierce family love and devotion. It is also full of the wider, urgent hope (of the reader) that the children can survive, adapt and flourish back in the Wild, despite its natural dangers and many unfamiliarities, and hope that the government drones and spies that circle them will not threaten their newly found (and harshly won) freedom.

This is an emotionally and vividly written story with a whole cast of touching, heart-felt characters such as the beautiful Ghost and brave Hester and Queenie and their gang. It is such a thought provoking and unique book - the big idea of a world that has destroyed itself is quite genuinely a sobering premise in 2020. Yet the story sets so much promise in the courage and determination of Juniper and Bear that a sense of positivity and uncrushable human spirit is always driving the action alongside the desperate scenes and struggles.

I fell in love with this story and with Juniper and Bear, and hope this isn't the end of experiencing their Wild with them.

352 pages / Reviewed by Jenny Caddick, teacher
Suggested Reading Age 9+
Erin
Nicola Penfold has created a world in which people are forced to live within city walls and without any nature growing around them. Ticks had been carrying a disease that wiped out entire towns and cities, so the government stepped in and created barriers, rules and consequences for being a nature lover.

Juniper and little brother Bear - even their names break the mold - are living with their grandmother. Their parents gave them up to her and then returned to living in the wild. It has always been a plan for Juniper and Bear to return to the wild to find their parents and they have been storing supplies, books and maps that will help them on this incredibly brave journey. All of this has to be hidden over fears of being sent to the institute. Their escape has been brought forward after Bear has his blood tested as both he and Juniper are immune to the disease carried by the ticks. Trouble is growing for the pair.

There are few who will help them but some firm friends and rebels working secretly provide the final pieces for their escape. Knowing they need to say final goodbyes to their home and only family they have really known, the night they leave is emotional and fraught with danger of getting caught. Getting past the barrier between the city and the wild is manageable - but the wild is full of wolves, ticks and a lynx, and it is here that their true adventure really begins as they try to make their way back to their parents.

This is a heart pounding adventure for the pair with danger, struggles and learning to fend for themselves in a wild forest. The book beautifully highlights so many of our environmental issues and worries over conservation. Juniper and Bear are incredibly well thought and planned characters, their plight feels all too real and the hope of finding a home is something everyone will relate to. They work together, keep each other safe and prove that love, hope and a sense of doing the right thing will prevail.

I loved this story and look forward to seeing what Nicola does next!

352 pages / Ages 9-12 years / Reviewed by Erin Hamilton, librarian
Suggested Reading Age 9+
Jacqueline
Juniper is thirteen and lives in the city with her little brother Bear. To the children, this city seems like a cage, as they used to live in the Wild. Leaving the city and returning to their mother has always been their dream. But this is a time when the world has changed. Fifty years previously a group calling themselves the Rewilders, let lose a deadly disease, which killed a huge proportion of the population and now the remnants must live in the city, allowing the world to recover from the pollution and ill treatment.
Juniper and Bear's relationship is at the heart of this story. Juniper feels responsible for her little brother and tries to care for him as best she can. Then one day they are forced to leave the city and return to the Wild. But not all wild is good or safe. Juniper and Bear have to face the Wild and take it head on.

Where The World Turns Wild is a wonderful book which, whilst filled with tension from the opening pages, allows the reader to travel with Juniper and Bear as they try to escape the confines of the city. There is nothing that is impossible to believe in this story; no extraordinary technology or huge advances, and that is what makes it so powerful. At the centre is the conundrum of the Rewilders killing huge numbers of people to protect the Earth and this allows for the reader to consider what people are doing to this world and why it needs to change. This is never done in any sort of preachy way and is always contained in the plotline.

Whilst I really wanted to finish the book and find out what happened, I felt sad leaving Juniper and Bear once I had finished. This book did not try and answer every question or tie up every lose end and it is the better for it as it allows you to think about the issues raised and how uncomfortable they actually are.

352 Pages / 9-12 years / Reviewed by Jacqueline Harris, teacher 
Suggested Reading Age 9+
Katie
Where the World Turns Wild is a beautiful, enchanting novel which tells the tale of siblings Jupiter and Bear and their search to reconnect to their parents. The novel is set in a world where a disease has wiped out a large proportion of the population, and those surviving are forced to live in a sterile world where nature and the wilderness is forbidden.

Juniper and Bear feel wild and isolated in the city and set out on a journey to escape to The Wild. The relationship between Juniper and Bear is wonderfully captured, and Juniper is fiercely protective of her little brother. Bear in turn, is completely dedicated to Juniper. I was particularly taken with their relationship with the lynx Ghost, who has to be my favourite character! This is definitely a book to read snuggled up with a warm and cosy cat!

Penfold's prose is beautifully written, with wonderful descriptions which show the stark contrasts between the City and the Wild. I think the book is great for fans of The Hunger Games and Divergent, and The City's dystopian look at a potential future world is frightening. The initial familiar school setting instantly draws empathy from any reader who has ever felt isolated at school.

The story is fast paced, and keeps the reader guessing. Overall, it is a wonderful book for anyone who loves an adventure, with a slightly bittersweet ending that has lots of sequel potential.

352 pages / Ages 9+ / Reviewed by Katie Bradwell
Suggested Reading Age 9+
Other titles