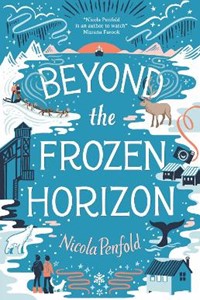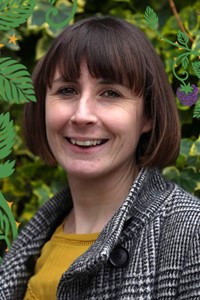 About Author
In her books Where the World Turns Wild, Between Sea and Sky and her latest, Beyond the Frozen Horizon, Nicola Penfold explores how climate change might affect our future world, and how societies will adapt to the challenges they face. 
Nicola was born in Merseyside and grew up in Doncaster, studied English at Cambridge and then completed a Computing Science masters at Imperial College London before turning her hand to writing.  Her debut, Where the World Turns Wild, was shortlisted for the first Joan Aiken Future Classics Prize in 2017 and selected for SCBWI's 2018 Undiscovered Voices anthology.
Nicola lives with her husband, four children and two cats in North London, and escapes when she can to wilder corners of the UK for adventures.  Find Nicola online: Twitter: @nicolapenfold, Instagram: @nicolapenfoldauthor, and Facebook: Nicola Penfold Author
Interview
Beyond the Frozen Horizon  (Little Tiger Press)
September 2022
Read a chapter from Beyond the Frozen Horizon
Discover a future world that cares for the environment and supports wildlife, but where the greed of corporates still threatens its creatures... 
In Beyond the Frozen Horizon, Nicola Penfold takes us to the frozen shores of the Arctic, where a special wilderness zone to support the creatures in this rare and precious environment is under threat. Here is Nicola Penfold to tell us more about Beyond the Frozen Horizon:
Q&A with Nicola Penfold by Azra Macic
1.   Can you tell us about your new book, Beyond the Frozen Horizon?
Beyond the Frozen Horizon is set in the future, and I've imagined humanity has taken great strides in tackling the climate and biodiversity crisis. Vast areas have been set aside as wilderness zones, to act as carbon stores and protect wildlife. Rory, 13, is lucky enough to travel to one of these wilderness zones - to Svalbard in the High Arctic. Her geologist mum is working on a mining project - extracting rare earth metals for use in green technology. The book is also a bit of a ghost story.

2.   Why do you enjoy writing books about the environment, and what inspired this story of conservation and corporate deceit?
Setting is one of the most important things for me when writing, and I love remote landscapes, or places on the edge of something. You don't get much more remote or on the edge than the Arctic - Rory feels she's come to the edge of the earth.
After writing two dystopian worlds (in Where the World Turns Wild and Between Sea and Sky), I wanted to try writing a more optimistic future. What if the world had woken up to the huge challenges we face? What if we'd taken bold and decisive action and this had actually made a difference and Earth was thriving again? But even where good things happen, we need to be alert to the impact of every action we take, so this story also becomes about greed and secrecy. I suppose the message is, we can't keep on consuming without consequences somewhere.

3.   How well do you think the world currently understands the outcomes of climate change? Is the mum's naïvety a representation of the world's ignorance of climate change?
That's a nice way of looking at it. I think Rory's mum, Laura, is a very clever and capable person, and a good person. But yes, Laura is blinkered - she's naïve, she's also working very hard, in an extreme and hostile environment. Rory sees a lot more of what's going - I think young people often do. They have a good instinct for people, and places, and seeing right from wrong. That's perhaps why so many climate activists in recent years have been young.

4.   How did you research the setting for Beyond the Frozen Horizon? Have you been to the Arctic or seen any of these animals in their setting?
I've been to northern Finland, above the Arctic circle. But not to Svalbard, no. I've never seen Svalbard reindeer or whales or Arctic foxes or polar bears. I did see Eider ducks in the penguin pool at Whipsnade! The Internet has definitely been my friend writing this book, and I think it's interesting, how it is possible to get a sense of a place without visiting. It's not the same as going in person, but perhaps it gives you freedom to change details to alter your story. It also opens up writing to everyone - you shouldn't have to take expensive holidays to write about faraway places. Research coupled with imagination can go a long way.

5.   How did you go about creating this world, where action has been taken on climate change?
I compiled my wish list of things that should happen. First and foremost, leaving fossil fuels in the ground. Then giving more space to nature, on a scale we haven't seen yet. Properly investing in natural carbon solutions, that can also help us tackle the extinction crisis alongside the climate one. They're two sides of the same thing.
I really do hope we see a wilder, greener world in the future. It's the only kind of future that makes sense, and it would be so good for people too - to have this connection to the wild. I find this really exciting to think about.

6.   Do you believe this could be a future outcome for the world? Or do big corporations have too much control over the world for any changes to happen? How optimistic are you of change?
It depends what news story I'm reading, to be honest. So much needs to change, and we're running out of time. We've had record-breaking temperatures this summer in the UK, but this is just the tip of the iceberg. If we look at what's happening around the world - drought and famine in Yemen (on top of a war), floods and hurricanes in the Philippines, the existence of entire Pacific islands threatened by rising sea levels, terrifying heatwaves in India and Pakistan, the list goes on and on.
Climate change isn't a future fear, it's happening now. Communities are being devastated, and tragically they're usually those with least resources to adapt, and most unfairly, and sickeningly, those with the smallest carbon footprint. People not to blame for this crisis are paying the highest possible price - for our ridiculous desire for consumption. I'm optimistic for change because this is the only way forward - what worries is me is how quickly it will happen, and what we lose along the way.

7.   Can you tell us about your main character, Rory. Did any young environmental campaigners help inspire her?
There are many amazing young activists - people like Greta Thunberg and Vanessa Nakate. But actually, Rory isn't meant to be an activist, she's an ordinary girl, caught in the middle of her parents' opposing ideals, and a world that's more limited than previous generations have enjoyed. She's struggling to work out her own identity and future.
I'm inspired by my own teenager daughters and their friends, and seeing them trek the path to adulthood. It's not always easy, but keeping a connection to the natural world - whether it's the woods where Rory's dad lives, or the High Arctic - can really help. It helps us keep perspective on our own lives, it brings clarity, it's calming, it makes us feel truly alive.

8.   Why do you give Rory's father such an extreme way of life? Do you think that everyone should live like Rory's father?
Rory's dad lives and works in a forest, and shuns modern life and the Internet etc. He's off-grid, and for some people, this works. But you know if we all went to live in the wild places, they wouldn't be wild anymore! I love towns and cities too. They can be amazing, efficient, beautiful places, where people share resources and transport.

9.   Who are your environmental heroes in today's world?
I've already mentioned Greta Thunberg and Vanessa Nakate. Here in the UK, we've got our own inspiring young people speaking up - and writing about - the importance of wild creatures and spaces, including Dara McAnulty, author of Diary of a Young Naturalist, and Mya Rose Craig, author of Birdgirl. Other heroes are David Attenborough, of course; George Monbiot, for speaking up for rewilding; and Chris Packham.
A lot of my heroes would be the people doing vital work locally to them - protecting the wild spaces, the patches of green, sometimes very small, that help keep our planet and its inhabitants breathing. This is something we can all join in with.

10.   Where did you write Beyond the Frozen Horizon? What are you writing currently?
I write mostly in a shed or summerhouse at the bottom of my garden. Which I'm amazingly grateful for every time I go in! I can hear birds, and squirrels and foxes scuttering along the roof.
I'm currently writing a fourth book for Little Tiger, but I can't tell you what it is yet!! Sorry!!

11.   Do any of your previous books stand out for you during your writing career?
That's a difficult question, because I'm proud of all the books I've written, and I hope they all find readers who love them, but there has been something special about the reaction to Where the World Turns Wild. It's been used a lot in schools and inspired some incredible work. I still get asked a lot about the characters, and what comes next for them all. It always makes me really happy - that they exist now in other people's imaginations too.

12.   What would you be if you were not an author?
I'd work outside somewhere, in a nature reserve maybe. I'd love to do something where I feel a connection with wildlife, and where I can make a difference.
Nicola Penfold introduces her earlier novel, Between Sea and Sky (Stripes Publishing):
Read a chapter from Between Sea and Sky
Author's Titles